Short Term – Long Term Impact of COVID-19 on Real Estate
Hosted by Circle Partners
April 22, 2020
1:30 PM - 2:30 PM ET
Panel
The coronavirus crisis has rapidly become a major part of Americans' everyday lives and many of us are thinking about how the virus has and will continue to impact all sectors of the commercial real estate industry. Coronavirus is creating extreme uncertainty in the short-term with regards to cash flows. There will be a new normal defined by how people shop, work and play in the future. The question is, how will the new norm impact the commercial real estate sector?
Where will opportunities come from?

Short-term & long-term impact COVID-19?

How will this impact underwriting?

Does it change the type of loans you place on your property?

How will this impact investor expectations and yields?
Event Recording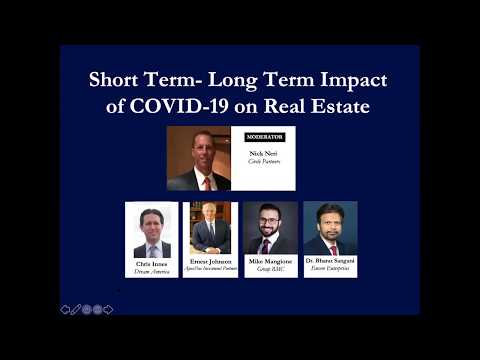 "Short Term – Long Term Impact of COVID-19 Real Estate"
Speakers
Nick Neri

Title

Vice President, Business Development

@

Company

Circle Partners

Role

Moderator

Nick Neri is the Vice President of Business Development (USA) at Circle Partners, with 20+ years of industry experience supporting a diversified mix of asset managers within the traditional and alternative investment industry.

He is responsible for developing and executing Circle Partners (USA) strategic growth plan with an emphasis on Hedge Funds, Fund of Funds, Private Equity Funds, Crypto Currency Funds and Mutual Funds.

Ernest Johnson

Title

Executive Managing Director

@

Company

ApexOne Investment Partners

Role

Panelist

Ernest is an Executive Managing Director with ApexOne Investment Partners, a private equity firm investing in the multifamily sector. Ernest focuses on capital markets, fund strategy, financial administration, and investor communications. Ernest has extensive real estate experience with some of the industry-leading firms, including 17 years with PM Realty Group and 10 years with JMB Property Company.

Immediately following graduation from college, he managed a national multifamily student housing portfolio and was responsible for all facets of operations, including acquisitions, dispositions, construction, and finance.

Ernest is actively involved with National Multifamily Housing Council. He serves on the Advisory Council for Auburn University's Master of Real Estate Development program and is also on the University of Florida's Bergstrom Real Estate Center Advisory Board. Ernest previously served as the Chairman of the Board of Trustees for the Lone Star Chapter of the National Multiple Sclerosis Society and has been inducted into the MS Society's National Fundraising Hall of Fame. Ernest graduated with a Bachelor of Science in Business Administration from Auburn University (1980).

Chris Innes

Title

Managing Director

@

Company

Dream America

Role

Panelist

Chris has more than 30 years of experience as an investor, advisor, business builder and problem solver in alternative asset management, banking, capital markets and real estate. His experience has included several stints as a senior executive at leading American and European banks where he executed more than $10 billion of transactions for corporations, financial institutions and global investors. Chris's passion for real estate and finding solutions to complex problems led him to leave banking in 2017 to launch a single family lease to own company dedicated to generating strong risk-adjusted returns for investors by helping renters become homeowners.

From 2010 - 2017, Chris was at BNP Paribas in New York where he served as an Americas group head and global markets executive committee member. In this role, he led a 100 person sales and trading team and was responsible for developing and implementing strategy, client development, recruiting and risk management. Under his leadership, the group's revenue grew from $25 million in 2010 to over $300 million. Prior to joining BNP Paribas, Chris ran his own real estate and alternative investment firm from 2007 - 2010. Earlier, from 1998 until 2006, Chris worked at Bank of America, where he was a founding member of the equity financial products group, a team he then led from 2002 – 2006 as revenue grew to $1 billion. From 1994 – 1997, Chris was at Salomon Brothers. He began his career as an Investment Banking Analyst with PaineWebber in 1992.




Chris grew up in Southern California and attended Claremont McKenna College, where he graduated magnum cum laude with a BA in Economics and Government in 1992.

Michael Mangione

Title

Director, Family Offices and Advisor Relations

@

Company

Group RMC

Role

Panelist

Michael is the Director of Family Offices and Advisor Relations at Group RMC. He is responsible for establishing, developing and maintaining business relationships with Family Offices and Investment Advisors. He is also responsible for marketing the business in Canada and in the US. Michael graduated with a Bachelor of Commerce with a concentration in accounting from Concordia University. He holds the CPA, CMA designation.

Bharat Sangani, MD

Title

Chairman & Founder

@

Company

Encore Enterprises

Role

Panelist

Dr. Bharat Sangani, Founder and Chairman of Encore Enterprises, co-founded the firm in 1999 as a vehicle for investors to share in the success of his real estate deals. In 1991, "Doc," as he is known by both clients and co-workers, made his first investment in real estate, transforming a failing hotel in Gulfport, Mississippi. Doc quickly learned he has a natural instinct for real estate investing and began growing his portfolio. Over the nearly 30 years that followed, Doc has established a successful real estate investment and development firm with a proven track record across various sectors and multiple market cycles throughout the United States. He is responsible for more than $2.7 billion in real estate transactions for Encore and oversees every aspect of the business, from operations to financial management. Admired for his relentless work ethic, Doc, along with a team of experienced, results-driven, and forward-thinking individuals, leads Encore on the principles of honesty, integrity, and fairness. He is an active contributor to the community and is involved in various charities both locally and in India.
About
ApexOne Investment Partners
ApexOne Investment Partners, LLC, a Texas limited liability company, is headquartered in Houston, Texas, with offices in Chicago, Illinois, Boca Raton, Florida, and Phoenix, Arizona, and, together with its affiliates, has substantial experience in real estate acquisition, syndication, financing, development, and disposition, as well as real estate transaction management. James A. Hearn, Ernest Johnson, Tim Burns, William Saul, and David Steele are the principals of ApexOne (the "Principals").
Following on the success of ApexOne Growth & Income Fund I, LP, a Delaware limited partnership ("Fund I"), ApexOne Growth & Income Fund II, LP, a Delaware limited partnership ("Fund II"), and ApexOne Multifamily Fund III, LP, a Delaware limited partnership ("Fund III"), ApexOne has formed ApexOne Multifamily Special Situation Fund IV, LP, a Delaware limited partnership (the "Partnership"), to make investments in direct and indirect equity interests in multifamily residential properties, including those requiring capital infusion, repositioning, post-development leasing or which may be subject to a distressed sale, as well as indebtedness secured by such multifamily residential properties.
ApexOne Investment Partners has acquired 46 properties and invested over $1.5B in workforce and student housing communities over the last seven years. ApexOne prides itself on providing excellent living environments to its residents, high returns, and transparent communications to its investors while reducing the environmental impact of their properties. Their fund level returns on fully cycled properties have averaged over 28% and Over 94% of ApexOne's investors have repeatedly invested in all three of their Funds.
Encore Enterprises
Founded in 1999, Encore is a vertically integrated, actively managed real estate investment and operating company focusing on value-added and opportunistic strategies throughout the United States. Operational excellence, combined with a commitment to disciplined investing, allows the company to capitalize on trends across all market segments, maximizing risk-adjusted returns for investors.
Since inception, Encore has completed more than $2.7 billion in real estate transactions with $1.3 billion in assets under management. Encore develops, acquires, and manages commercial real estate opportunities across the multifamily, hospitality, mixed-use retail, and office sectors, and has successfully operated fast-casual restaurants across the U.S.
Group RMC
Group RMC is a real estate Co-Investment group based in New York, Montreal and Columbus that invests in and is the general partner in undervalued income-producing office properties in non-gateway U.S. markets. Group RMC currently oversees over 21M square feet in the US, principally in the Midwest, representing over USD $2.5 Billion in asset value.
Circle Partners
We are a leading independent fund administrator, and for already 20 years we have been delivering best practice fund administration services to our clients. Our experienced team of professionals deliver a range of integrated services, which combined with our customized approach to client service have earned us a reputation as a favored provider of fund administration services.
Dream America
Dream America LLC offers rental homes to clients who want to buy a home but need additional time to qualify for an FHA or VA mortgage due to divorce, medical issues or other factors. Dream America allows approved clients to pick any house listed for sale. Dream then buys the home and rents it back to the client until they are mortgage-ready. And to help them on their journey, Dream credits 10% of rents paid towards their purchase. The company launched in 2018 and currently operates in major metro areas of Florida, Georgia and Texas.