Current Trends and Market Conditions in Hospitality, Multi Family and Office Real Estate
Hosted by Millennium Trust
November 19, 2020
11:00 AM - 12:00 PM ET
Panel
We will be discussing current trends and market conditions in Hospitality, Multi-family, Retail and Office Real Estate with four, esteemed panelists. With us today are Joseph Dematteo – Founder & President of JDM Capital, Tony Barkan – CEO & Co Managing Principal of Allagash Partners, Mike Mangione – Director, Family Office & Advisor Relations for Group RMC USA, and Dr. Bharat Sangani – Chairman of Encore Enterprises.
Why is this strategy compelling to Investors and what is the difference in investing in public markets vs private markets to gain exposure to this strategy?

Given the current environment what is the short-term and long-term trends look like for this strategy

Discuss the roll collateral plays in this strategy. What is the collateral and where does it fit within the capital structure

Discuss where we see future opportunities in this strategy presenting itself given the current environment

Discuss how deals are being structured to manage risk
Event Recording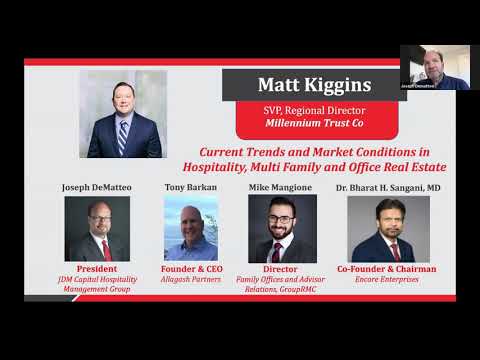 Current Trends and Market Conditions in Hospitality, Multi Family and office Real Estate
Speakers
Matt Kiggins

Title

Senior Vice President, Regional Director

@

Company

Millennium Trust

Role

Moderator

Matt Kiggins is SVP and Regional Director with Millennium Trust Company, a $30B Qualified Custodian servicing the Alternative Investments space. He is responsible for driving growth within the Institutional Custody channel with a focus on providing Fund Custody, Safekeeping, Verification services to Registered Investment Advisors (RIAs), Fund Managers, and Institutions. Prior to his role at Millennium Trust Co he spent 10 years at Fidelity Investments in Boston and has close to 25 years of experience in the financial services space. He is a 1996 graduate of Fitchburg State University where he earned a Bachelor of Science degree in Economics and has previously held FINRA Series 7 & 63 licenses.

Joseph W. DeMatteo Sr.

Title

Founder & President

@

Company

JDM Capital Hospitality Management

Role

Panelist

For almost three decades, Joseph has been a leading industry expert in the fields of hospitality and real estate management. His expertise in all facets of hospitality allows him to create one of a kind experiences that drive consumer demand and consistent returns for investors. An industry thought-leader and dedicated teacher, Joseph has spearheaded the asset management and hospitality programs as a faculty member and lecturer at NYU Masters Program at the Real Estate Institute, and Northeastern University's D'Amore McKim School of Business.

His educational accomplishments include a B.S. in Finance from the State University of New York, the completion of an Executive Management Program from Harvard Law School, a Degree in Building and Construction Management, Certificates in International Business and Finance & Hotel Operations all from New York University.

Tony Barkan

Title

Founder, CEO and Managing Principal

@

Company

Allagash Partners

Role

Panelist

Tony Barkan is the Founder, Managing Principal, and CEO of Allagash Partners. Prior to founding Allagash, from 2008-2015, Mr. Barkan was one of five Founding Principals and the Head of Commercial Real Estate at Seer Capital Management, an SEC-registered investment management company with $4 billion AUM. Mr. Barkan planned and executed Seer's LMI workforce housing value-add strategy; developed and ran the second largest global CMBS B-Piece investment businesses, driving transactions on over $20 billion of US CRE properties; and structured and invested into significant Mezzanine Loan exposure. Prior to Seer Capital, from 2001-2008, Mr. Barkan built and ran alternative investment platforms at Clinton, Harbert, and Sailfish managing portfolios with peak investor equity over $1 billion, a peak long asset portfolio over $10 billion, and peak total market exposure of almost $20 billion while leading teams as large as 20 people.

Notably, Mr. Barkan was an early identifier of the real estate-led economic crisis and by the beginning of 2007 had migrated his hedge fund portfolio to be entirely short using real estate-backed credit derivatives . From 1997-2001, Mr. Barkan was a Senior Portfolio Manager and investment committee member at Pareto Partners (originally Forstmann-Leff). Mr. Barkan began his career trading a range of real estate, commodity, and currency products at Salomon Brothers, Goldman Sachs, and ED&F Man Group from 1988-1997 . Mr. Barkan supports Here Arts Center, Scholars at Risk, and CaringKind: The Heart of Alzheimer's Caregiving. Mr. Barkan graduated from Princeton University where he was selected to the Honor Committee, and he is a member of the Triple Nine Society.

Michael Mangione

Title

Director, Family Offices and Advisor Relations

@

Company

Group RMC

Role

Panelist

Michael is the Director of Family Offices and Advisor Relations at Group RMC. He is responsible for establishing, developing and maintaining business relationships with Family Offices and Investment Advisors. He is also responsible for marketing the business in Canada and in the US. Michael graduated with a Bachelor of Commerce with a concentration in accounting from Concordia University. He holds the CPA, CMA designation.

Bharat Sangani, MD

Title

Chairman & Founder

@

Company

Encore Enterprises

Role

Panelist

Dr. Bharat Sangani, Founder and Chairman of Encore Enterprises, co-founded the firm in 1999 as a vehicle for investors to share in the success of his real estate deals. In 1991, "Doc," as he is known by both clients and co-workers, made his first investment in real estate, transforming a failing hotel in Gulfport, Mississippi. Doc quickly learned he has a natural instinct for real estate investing and began growing his portfolio. Over the nearly 30 years that followed, Doc has established a successful real estate investment and development firm with a proven track record across various sectors and multiple market cycles throughout the United States. He is responsible for more than $2.7 billion in real estate transactions for Encore and oversees every aspect of the business, from operations to financial management. Admired for his relentless work ethic, Doc, along with a team of experienced, results-driven, and forward-thinking individuals, leads Encore on the principles of honesty, integrity, and fairness. He is an active contributor to the community and is involved in various charities both locally and in India.
About
JDM Capital Hospitality Management
JDM Capital Hospitality Management Group provides operating and financial support for the day to day management and asset oversight of Hospitality assets. We are actively seeking Redevelopment, Re-Purposing and Acquisitions to be repositioned as a *participating mezzanine, *preferred equity, *GP, and *co-GP partner with a focus on operational control positions.
Encore Enterprises
Founded in 1999, Encore is a vertically integrated, actively managed real estate investment and operating company focusing on value-added and opportunistic strategies throughout the United States. Operational excellence, combined with a commitment to disciplined investing, allows the company to capitalize on trends across all market segments, maximizing risk-adjusted returns for investors.
Since inception, Encore has completed more than $2.7 billion in real estate transactions with $1.3 billion in assets under management. Encore develops, acquires, and manages commercial real estate opportunities across the multifamily, hospitality, mixed-use retail, and office sectors, and has successfully operated fast-casual restaurants across the U.S.
Group RMC
Group RMC is a real estate Co-Investment group based in New York, Montreal and Columbus that invests in and is the general partner in undervalued income-producing office properties in non-gateway U.S. markets. Group RMC currently oversees over 21M square feet in the US, principally in the Midwest, representing over USD $2.5 Billion in asset value.
Millennium Trust
Millennium Trust Co is a $30B+ Qualified Custodian specializing in providing custody solutions for fund managers, RIAs, institutions, investment platforms, and marketplace lenders, whether they are in need of institutional custody services for funds or alternative asset expertise for their investors. We are based on Oak Brook, IL, currently have over 400 employees and are privately owned by Boston-based Investment Company, Abry Partners.
Allagash Partners
Allagash Partners offers institutional and HNW investors strategies focused on the wealth of opportunities within the US residential real estate market, stemming primarily from the longstanding, massive shortage in affordable working-class rental properties. These investments are currently being offered as both multi-property private equity real estate funds and as single property investments for compelling opportunities that do not fit within any current Fund's mandate. The strategies are designed to be scalable and to consistently provide 15%+ net returns while also preserving investor's capital. Allagash, through its subsidiary Allagash Opportunity Zone Partners which is in process of registering both with the SEC as an RIA and with the CDFI Fund at the Department of Treasury as a Community Development Entity, began active investment activities in 2019 with the Allagash Opportunity Zone CRE Fund I. The firm is now launching the Allagash Multifamily Opportunity Fund I, which seeks to opportunistically purchase, intelligently renovate, efficiently manage, and strategically sell underperforming working-class rental housing properties throughout the US. Allagash was founded by Tony Barkan who serves as Managing Principal and CEO and chairs the investment and operations committees. Allagash's senior partners bring over 100 years of commercial real estate experience with particular expertise in working-class multifamily housing especially in secondary US markets, which Allagash believes can provide investment opportunities with outsized returns and moderate risk. Additionally, Allagash believes that projects which actively seek to provide a positive social impact should generate higher returns while presenting lower risk. As a result, Allagash seeks to work closely with communities into which it invests in order to understand their community development goals and methodologies for improving stability and resiliency.