Why Workforce Housing Remains the Most Investable CRE Asset Class
Hosted by PIA Residential
September 14, 2021
1:00 PM - 2:00 PM ET
Webcast
Join PIA Residential's upcoming webcast discussing our recently awarded Savannah, Georgia multifamily property. The webcast will cover our bullish thesis on multifamily assets located in 3rd tier municipalities, that possess large industrial employment centers, like ports, shipyards, and military installations. We will provide deep insight into our analysis and provide a glimpse of the internal mechanisms utilized to assess risk and choose our acquisitions.
We will provide an overview of our due diligence process from previous property acquisitions at Crystal Lake (Pensacola, FL) and St. John's Pointe (Jacksonville, FL). We will share why we chose these properties as foundational components to our broader multifamily portfolio strategy and discuss how the assets have performed through COVID on both the property and investment levels.
Additionally, we will provide a comparative analysis on the different investment structures, individual SPVs (Special Purpose Vehicles) vs. a Fund. As well as an introduce our 2 newest offerings, the PIA Workforce Housing Fund and the PIA Hard Money Lending Fund.
Our Investment Thesis – Live review with Danny and the PIA underwriting team to discuss the thought process on a current acquisition.

Revisionist History – How our past acquisitions have fared through the coronavirus pandemic (Project/Investment Level).

Target Market: The advantages of workforce housing in the SE US.

Investing in a Fund or a SPV – what are the advantages and drawbacks.

A comparative introduction to PIA Fund structures vs. our initial opportunities.
Event Recording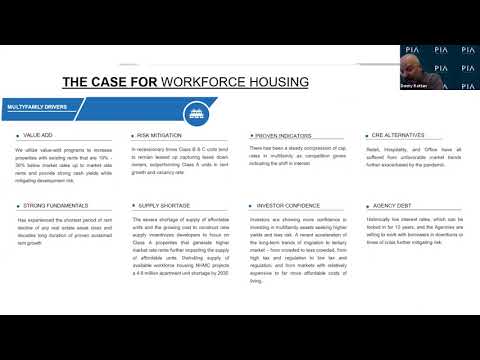 Why Workforce Housing Remains the Most Investable CRE Asset Class
Speaker
Danny Kattan

Title

Managing Partner, Capital Markets

@

Company

PIA Residential

Role

Speaker

Mr. Daniel Kattan is a Principal and Co-founder of PIA Residential "PIA". Mr. Kattan serves as the Managing Partner of Capital Markets and is responsible for all aspects of capital raising and investment activity. Throughout his career, Mr. Kattan has more than 15 years of real estate experience and has been involved in the financing and acquisition of over 1000 single-family and multifamily units. He was instrumental in the financing, refinancing, and disposition of PIA's portfolio and was responsible for structuring more than $180 million in non-recourse debt.

Mr. Kattan is also the Founder and CEO of the real estate platform Sell2Rent and the Co-Founder and Executive Manager of W.I.N.E. The Wharton International Network of Entrepreneurs, a nonprofit in conjunction with the Wharton School of Business.

Prior to creating PIA, Mr. Kattan distinguished career was comprised of senior positions with both Countrywide Financial and the Pan-American Investment Fund for Chile's Grupo CB. He advised investors consulting on non-performing note pools and focused on the financial, real estate, transportation, and infrastructure sectors in these roles. He also successfully launched internet services, advanced telecommunications, and biotechnology companies.

Currently, Mr. Kattan serves on the Board of Advisors for BBVA Bank, the Planning and Zoning Board of the City of Hallandale, the Advisory Board for the Center of Advanced Jewish Education, and Chairman of Board of C.H.A.P., the Community Hebrew Afterschool Program. Mr. Kattan is a member of the Entrepreneur Organization "E.O" and a frequent contributor to the Forbes Business Journal.

Mr. Kattan graduated cum laude from Northeastern University with a B.A. in Industrial Engineering. He attended The Wharton School of Business at the University of Pennsylvania, where he earned an M.B.A specializing in Finance.
About
PIA Residential
PIA Residential is a private equity real estate firm with a proven track record, buying and managing residential properties in the Southeast Unites States. During the last decade, PIA invested heavily in the single-family and medium-sized multifamily market; and through successful management and repositioning, PIA reaped the benefits of tremendous value appreciation. PIA's seasoned team of professionals brings over 180 years of combined experience in selecting, evaluating, structuring, financing, improving, managing, and selling multifamily assets. With an institutional mindset and entrepreneurial spirit, conservative underwriting, and defensive acquisition strategies, PIA strives to produce above-average, risk-adjusted market returns for our Family Office and HNW individual investors.