Structuring Trends: Creating a Win / Win for General Partners & Investors
Hosted by Weinberg Wheeler Hudgins Gunn & Dial, LLC
June 23, 2020
12:00 PM - 1:00 PM ET
Panel
There is no doubt that edge can be gained through structuring and industry professionals are looking at every aspect of the industry to moved forward with confidence. Challenging times require flexibility and creativity, this panel will look at deal making, building a book in illiquid investments, using the Co-Investment / Direct Investment model to get a deal done. The panel will look at tax efficiency of Opportunity Zones in the different verticals. Please join this panel of experts for a deep dive and interactive Question and Answers with audience participation.
Using Opportunity Zones to generate great returns

Using permanent capital to invest in real estate

Co-Investment vs Direct Investment, a deep dive into both

How to create a Win Win for General Partners and Investors
Event Recording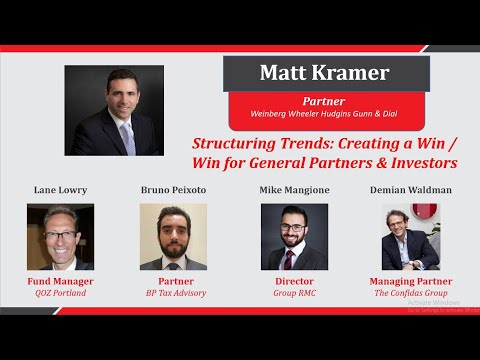 Structuring Trends Creating a Win Win for General Partners & Investors
Speakers
Matthew I. Kramer

Title

Partner

@

Company

Weinberg Wheeler Hudgins Gunn & Dial, LLC

Role

Moderator

Corporate transactional attorney with a focus representing owners, developers, buyers and distressed investors in a wide array of real estate transactions. Experience structuring mezz, private equity and EB5 transactions. Represent landlords and tenants on lease transactions. Experience with construction financing, code compliance, title, and corporate restructuring matters. Handle commercial foreclosures on behalf of servicers and lenders. Counsel start-up ventures and assist companies in the purchase and sale of assets.

Lane Lowry

Title

Fund Manager

@

Company

Acqua QOZ Portland

Role

Panelist

Lane has 31 years of experience in in all aspects of development from site analysis, acquisition, design, construction and lease up. Lane has completed hundreds of remodel, new home, apartment and new homebuilding communities including large land parcels for merchant home building.

Bruno Peixoto

Title

Partner

@

Company

BP Tax Advisory

Role

Panelist

He started his career in 2002, as a trainee and soon as a lawyer in a large law firm in Brazil, where he dedicated his activities to providing services to large national and foreign companies, with a main focus in the areas of business structuring, foreign investment consultancy in the Brazil and Brazilians abroad, tax planning and tax litigation. From 2012 he performed international tax consultancy in a large consulting firm, where he was the coordinator of his legal and partner department. Brazilian Bar Association, International Fiscal Association, Brazilian Association of Financial Law and Founding Member of the Uruguay-Australia Chamber of Commerce.

Michael Mangione

Title

Director, Family Offices and Advisor Relations

@

Company

Group RMC

Role

Panelist

Michael is the Director of Family Offices and Advisor Relations at Group RMC. He is responsible for establishing, developing and maintaining business relationships with Family Offices and Investment Advisors. He is also responsible for marketing the business in Canada and in the US. Michael graduated with a Bachelor of Commerce with a concentration in accounting from Concordia University. He holds the CPA, CMA designation.

Demian Waldman

Title

Managing Partner

Role

Panelist

Mr. Waldman joined The Confidas Group in 2014 and with 25+ years of experience in financial services and international business development, was previously Head of Business Development at Bravia Capital an independent manager of public and private equity investments in Brazil. Previously, was a founding partner of Liyen Co., a Dubai-based Investment Advisory Company for Brazilian and Gulf (GCC) business development. Prior was responsible for business development and a partner at Rosenberg Partners, a leading Brazilian M&A and Project Finance independent advisory company, spin-off from Rosenberg & Associados (1985) one of the most distinguished macroeconomic consulting firms in Brazil. And for 9 years, Business Development Manager of Faldini-Belesta Banque d'Affaires, an Investment Company of Belesta AG (Swiss Multi-family Office)) and Faldini Family Office. Mr. Waldman graduated in Business Administration from Fundação Getúlio Vargas (FGV) and attended a University Extension Program in International Business at Sophia University, Tokyo. He is fluent in English, Portuguese, Italian and Spanish and has a good working knowledge of French.
About
Group RMC
Group RMC is a real estate Co-Investment group based in New York, Montreal and Columbus that invests in and is the general partner in undervalued income-producing office properties in non-gateway U.S. markets. Group RMC currently oversees over 21M square feet in the US, principally in the Midwest, representing over USD $2.5 Billion in asset value.
Weinberg Wheeler Hudgins Gunn & Dial, LLC
Weinberg, Wheeler, Hudgins, Gunn & Dial, LLC is a full service law firm located throughout the Southeast and Nevada.
Acqua QOZ Portland
QOZ Portland can provide Investors up to 101% Tax Savings in the First Year by Investing in Multifamily Real Estate in an Opportunity Zone Fund and pay No Tax When You Sell. Our combination of Tax Strategies allows investors to Grow Investments Tax Free for up to 27.5 Years.
BP Tax Advisory
Our company is formed by professionals specialized in the provision of global services, especially in the areas of international tax planning and fiduciary services, with an emphasis on clients in the Latin American market.