Dream America - Why Now is a Good Time to Buy a Rental Home?
Hosted by Dream America
December 2, 2022
11:30 AM - 12:00 PM ET
Keynote
The Dream America fund offers investors the opportunity to earn attractive quarterly distributions and future home price appreciation while helping front-line workers, Veterans and others on the path to realizing the American Dream of Homeownership. The fund invests in single family homes in major metro areas in Florida, Georgia and Texas that enjoy strong rental demand backed by their local economy and demographic trends that are expected to continue for the next decade and beyond. Dream America underwrites applicants with an eye towards future mortgage-readiness. This process gives our tenants concrete steps they can take to become homeowners while allowing Dream America to have a better understanding of and relationship with its tenants than traditional landlords. Since launching in 2018, the company has expanded with the support of its investors and a growing network of 3,700 real estate agents that promote Dream America to their clients.
Dream America offers an attractive strategy to invest in competitive rental property markets

Quarterly distributions backed by high cash-flow from rent, upfront fees and re-sale profits

Tenants have "skin in the game" due to upfront downpayment

Low-maintenance vs. traditional landlord. Tenants maintain "their home"

Defensive asset class. In times of stress, tenants prioritize rent payments
Event Recording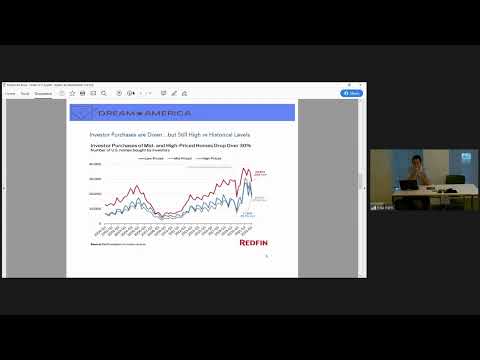 Dream America - Why Now is a Good Time to Buy a Rental Home?
Attachments
Dream America - Why Now is a Good Time to Buy a Rental Home?

Dream America - FLAIA 12 2 22.pdf
Speaker
Chris Innes

Title

Managing Director

@

Company

Dream America

Role

Speaker

Chris has more than 30 years of experience as an investor, advisor, business builder and problem solver in alternative asset management, banking, capital markets and real estate. His experience has included several stints as a senior executive at leading American and European banks where he executed more than $10 billion of transactions for corporations, financial institutions and global investors. Chris's passion for real estate and finding solutions to complex problems led him to leave banking in 2017 to launch a single family lease to own company dedicated to generating strong risk-adjusted returns for investors by helping renters become homeowners.

From 2010 - 2017, Chris was at BNP Paribas in New York where he served as an Americas group head and global markets executive committee member. In this role, he led a 100 person sales and trading team and was responsible for developing and implementing strategy, client development, recruiting and risk management. Under his leadership, the group's revenue grew from $25 million in 2010 to over $300 million. Prior to joining BNP Paribas, Chris ran his own real estate and alternative investment firm from 2007 - 2010. Earlier, from 1998 until 2006, Chris worked at Bank of America, where he was a founding member of the equity financial products group, a team he then led from 2002 – 2006 as revenue grew to $1 billion. From 1994 – 1997, Chris was at Salomon Brothers. He began his career as an Investment Banking Analyst with PaineWebber in 1992.




Chris grew up in Southern California and attended Claremont McKenna College, where he graduated magnum cum laude with a BA in Economics and Government in 1992.
About
Dream America
Dream America LLC offers rental homes to clients who want to buy a home but need additional time to qualify for an FHA or VA mortgage due to divorce, medical issues or other factors. Dream America allows approved clients to pick any house listed for sale. Dream then buys the home and rents it back to the client until they are mortgage-ready. And to help them on their journey, Dream credits 10% of rents paid towards their purchase. The company launched in 2018 and currently operates in major metro areas of Florida, Georgia and Texas.