Private Debt & Direct Lending Opportunities in 2021
Hosted by FLAIA
February 18, 2021
11:00 AM - 12:00 PM ET
Panel
Private Credit offers the potential for a strong alternative to traditional fixed income but it is important for investors to understand the different types of private credit–especially in uncertain times like now. In this panel, we will explore the various strategies and their opportunities and risks. We will focus on both the challenges and opportunities in this current pandemic environment...
Review of 2020 Performance

Outlook for 2021

Inflationary or Deflationary Environment

Defaults & Restructuring

Navigating the New Normal in Private Debt and Direct Lending Origination
Event Recording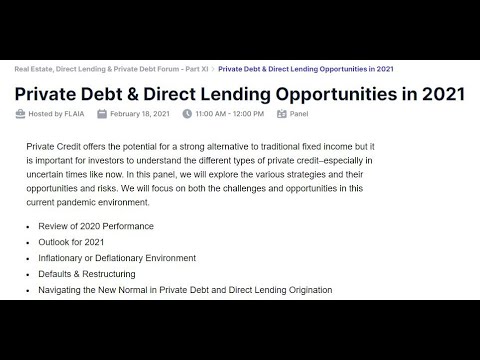 Private Debt & Direct Lending Opportunities in 2021
Speakers
Danny Kattan

Title

Managing Partner, Capital Markets

@

Company

PIA Residential

Role

Moderator

Mr. Daniel Kattan is a Principal and Co-founder of PIA Residential "PIA". Mr. Kattan serves as the Managing Partner of Capital Markets and is responsible for all aspects of capital raising and investment activity. Throughout his career, Mr. Kattan has more than 15 years of real estate experience and has been involved in the financing and acquisition of over 1000 single-family and multifamily units. He was instrumental in the financing, refinancing, and disposition of PIA's portfolio and was responsible for structuring more than $180 million in non-recourse debt.

Mr. Kattan is also the Founder and CEO of the real estate platform Sell2Rent and the Co-Founder and Executive Manager of W.I.N.E. The Wharton International Network of Entrepreneurs, a nonprofit in conjunction with the Wharton School of Business.

Prior to creating PIA, Mr. Kattan distinguished career was comprised of senior positions with both Countrywide Financial and the Pan-American Investment Fund for Chile's Grupo CB. He advised investors consulting on non-performing note pools and focused on the financial, real estate, transportation, and infrastructure sectors in these roles. He also successfully launched internet services, advanced telecommunications, and biotechnology companies.

Currently, Mr. Kattan serves on the Board of Advisors for BBVA Bank, the Planning and Zoning Board of the City of Hallandale, the Advisory Board for the Center of Advanced Jewish Education, and Chairman of Board of C.H.A.P., the Community Hebrew Afterschool Program. Mr. Kattan is a member of the Entrepreneur Organization "E.O" and a frequent contributor to the Forbes Business Journal.

Mr. Kattan graduated cum laude from Northeastern University with a B.A. in Industrial Engineering. He attended The Wharton School of Business at the University of Pennsylvania, where he earned an M.B.A specializing in Finance.

Camilo Nino

Title

Founding Partner & CEO

@

Company

Linkvest Capital

Role

Panelist

Camilo, CEO and Founder of Linkvest Capital, brings over 22 years of experience as an investment advisor, real estate investor and private lender. Camilo has overseen nearly 500 transactions for over $500 million in Florida and Georgia. He has represented some of the region's most high-profile development projects, including Bijou Bay Harbour Condominium in Bay Harbour Islands, Miami Springs Town Center, and Soleste Alameda in West Miami, among others. Camilo has also led the acquisition of commercial real estate assets throughout the southeast region. Linkvest Properties' current portfolio includes single-tenant properties, shopping centers and industrial assets in Florida and Georgia. Recent acquisitions include United Rentals in Pompano Beach, Chase on the Miami River; McDonald's and Tire Kingdom in Hialeah; and FedEx and a Wells Fargo branch in Atlanta. Finally, Camilo establishes partnerships with respected and experienced developers with a focus on multifamily and mixed-use properties. Recent partnerships include high-profile firms such as The Estate Companies, Futura Company and CIP Realty. In the last two years, LV Development has invested in the development of seven multifamily projects with over 1,600 units.

Rafael Serrano

Title

Managing Director

@

Company

Safe Harbor Equiity

Role

Panelist

Rafael Serrano is the managing director of Safe Harbor Equity He has managed hundreds of transactions involving a variety of performing and non performing commercial and residential mortgage loans, defaulted debt instruments, and distressed real estate assets. From 2001 to 2005 Mr Serrano served as a business management and strategic consultant to British Aerospace Systems (BAE Systems, Inc with responsibilities throughout South America. Prior, he served as a Corporate National Accounts Manager with WorldCom, Inc. From 1992 to 1999 he was the founder and CEO of MTU a provider of commercial vehicle fleet servicing and maintenance. Throughout his professional career, Mr Serrano has been an active participant in the acquisition, development and reposition of residential and commercial real estate properties He attended Florida International University.

Rob Jafek

Title

Founder

@

Company

Boomerang Capital

Role

Panelist

Rob has been involved in all phases of Boomerang's development since its inception and oversees its operations. He previously held various principal investing roles including Head of International Trading for Nicholas Applegate Capital Management and Analyst at Tiger Management. He has founded and managed two alternative investment firms: Plumeria Advisors and Torrey Pines Capital Management. He started his career as an investment banking Analyst at Morgan Stanley. He received a BA in Finance from The University of Utah and a Masters in Innovation and Entrepreneurship from HEC Paris. He is a contributing member to Forbes.com and a member of the Forbes Real Estate Council and teaches business as an Adjunct Professor at the UC Berkeley School of Law.

Elena Gertsberg

Title

Role

Panelist

An experienced banking and financing professional, who achieved an excellent track record of career progression in Commercial and Consumer Banking and then switched to Investments. Elena runs a Family office, which is active in the areas of Private Credit, Private equity and Venture Capital.

Before Adar Advisors, Elena was working at Citibank, where she was responsible for a launch of mortgage lending. She holds an MBA from the University of Chicago Booth School of Business.

Elena is passionate about startups, serving several of them as a mentor and board member. Also, she is writing articles about investments.
About
FLAIA
FLAIA is an open access platform of alternative investments for institutions, wealth advisors, family offices, RIAs, and accredited investors. General Partners gain access to a vertically integrated digital & traditional fintech marketplace. Investors gain access to special opportunities, educational webcasts and digital events. All of our digital events, educational content and alternative investment opportunities are available in one place under a single sign on.
Linkvest Capital
Linkvest Capital LLC is a US-based co-investment platform for family offices, institutions and private investors. As a vertically integrated real estate firm, Linkvest Capital includes financing, acquisition and development entities. LV Lending, the private financing affiliate, focuses on real estate business and investment mortgage loans on residential and commercial properties. The company has a current portfolio of $240 million and has serviced more than 500 transactions for over $450 million in Florida and Georgia. Linkvest Properties, focuses on commercial acquisitions in the southeast United States region and operates a portfolio of over $35 million. LV Development, co-invests with real estate developers on multifamily and mixed-use projects in Florida, and has invested in 7 multifamily projects with over 1,600 apartments to be delivered between 2020 and 2024.
Safe Harbor Equiity
Safe Harbor Equity is an opportunistic private equity firm that strategically acquires, originates, manages and repositions performing and nonperforming asset-backed real estate mortgages up to $20 million.
With a proven track record of success navigating the complexities of the distressed debt space, Safe Harbor Equity seeks to preserve investor capital while targeting IRR's of 20% or higher by leveraging highly sophisticated, bleeding-edge analytical techniques, coupled with decades of collective experience, to provide its investors superior returns that are uncorrelated with market volatility.
Leveraging its extensive contacts in the secondary markets for residential and commercial real estate loans; the investment banking and private equity communities, and the commercial and residential real estate sectors in general, Safe Harbor Equity leverages its extensive network to source deals and seize upon unique opportunities wherever they may arise.
PIA Residential
PIA Residential is a private equity real estate firm with a proven track record, buying and managing residential properties in the Southeast Unites States. During the last decade, PIA invested heavily in the single-family and medium-sized multifamily market; and through successful management and repositioning, PIA reaped the benefits of tremendous value appreciation. PIA's seasoned team of professionals brings over 180 years of combined experience in selecting, evaluating, structuring, financing, improving, managing, and selling multifamily assets. With an institutional mindset and entrepreneurial spirit, conservative underwriting, and defensive acquisition strategies, PIA strives to produce above-average, risk-adjusted market returns for our Family Office and HNW individual investors.
Adar Advisors
The company Adar Advisors is a family office in Singapore with focus on senior secured private debt in Western Europe and Asia. Its partners include financial experts, tax specialists, luxury real estate companies, wide range of European and Asian private banks.
Boomerang Capital
Boomerang Finance, LLC (the "Fund") has an investment objective of providing income with limited variability in returns. This is accomplished by providing short-term, business-purpose loans secured by real estate in a first lien position with the additional protections of a personal guarantee from borrowers and cross collateralization. All loans are self-originated, and risk managed through careful underwriting, thoughtful portfolio construction and consistent servicing. The majority of borrowers are return clients. Exposure is broad-based, and the Fund is structured as a REIT.