Opportunities in Private Credit Funds & Performance During a Recession
Hosted by Oak Shore Capital
May 19, 2020
12:00 PM - 1:00 PM ET
Panel
As the US and the global economies continue to simultaneously address both health and financial risks stemming from the COVID-19 pandemic, it is a natural time for investors to reassess their own portfolio and investment allocations. Join us as we see what lenders and credit providers are doing across the marketplace.
Update on how the ongoing pandemic is impacting the lending environment

What have lenders learned so far in 2020?

How have existing investments held up with the financial pressure due to the pandemic?

Are the ongoing financial challenges creating new opportunities for lenders?
Event Recording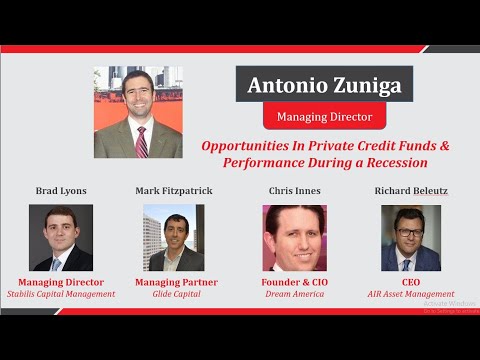 Opportunities in Private Credit Funds & Performance During a Recession
Speakers
Antonio Zuniga

Title

Managing Director

@

Company

Oak Shore Capital

Role

Moderator

Mr. Zuniga has over 20 years of entrepreneurial and investment experience in Real Estate and Banking. He has Graduate degrees from Cornell University and the Jones School of Management at Rice University with concentrations in Finance and Behavioral Economics. Prior to Oak Shore, Mr. Zuniga underwrote, lent and disposed a portfolio of real estate bridge loans ('04-'08); founding investor, board member, chair of Risk Management and later Chairman of the Board at Oasis Bank SSB, which later merged with SoTB ('06-'11); SoTB subsequently filed for IPO ('18); co-founder successfully acquired, managed and sold multi-family real estate in 10 markets with transactions totaling over $50MM ('08-'15).

Brad Lyons

Title

Managing Director

@

Company

Stablis Capital Management

Role

Panelist

Mr. Lyons is a senior member of the origination's team at Stabilis Capital Management, a New York based investor focused on the origination and acquisition of senior bridge loans secured by transitional assets (real estate, asset backed and healthcare). Stabilis is active across most real estate sectors as well as with various specialty finance and C&I opportunities such as inventory, receivables and equipment financing and bankruptcies. Mr. Lyons has significant experience in the real estate structured finance space and has been active with value-add and development projects across all sectors nationwide. Mr. Lyons' principal experience included investing on behalf of Capital Trust (now Blackstone Mortgage Trust) and New York Life Investment Management. He holds a BA in Economics from the Johns Hopkins University and an MS in Real Estate Finance from NYU.

Mark Fitzpatrick

Title

Managing Partner

@

Company

Glide Capital

Role

Panelist

Mark Fitzpatrick has over 20 years experience working with family offices and wealth management firms to build portfolios within alternative strategies. Mark is a co-founder of Glide Capital, which was created in 2015 to assist family offices and wealth managers to more efficiently build portfolios within private credit and other alternative strategies.

Mark is a key member of the Investment Committee, oversees the operations and legal departments and is responsible for developing strategic relationships for the firm. Mark is a CFA charterholder.

Chris Innes

Title

Managing Director

@

Company

Dream America

Role

Panelist

Chris has more than 30 years of experience as an investor, advisor, business builder and problem solver in alternative asset management, banking, capital markets and real estate. His experience has included several stints as a senior executive at leading American and European banks where he executed more than $10 billion of transactions for corporations, financial institutions and global investors. Chris's passion for real estate and finding solutions to complex problems led him to leave banking in 2017 to launch a single family lease to own company dedicated to generating strong risk-adjusted returns for investors by helping renters become homeowners.

From 2010 - 2017, Chris was at BNP Paribas in New York where he served as an Americas group head and global markets executive committee member. In this role, he led a 100 person sales and trading team and was responsible for developing and implementing strategy, client development, recruiting and risk management. Under his leadership, the group's revenue grew from $25 million in 2010 to over $300 million. Prior to joining BNP Paribas, Chris ran his own real estate and alternative investment firm from 2007 - 2010. Earlier, from 1998 until 2006, Chris worked at Bank of America, where he was a founding member of the equity financial products group, a team he then led from 2002 – 2006 as revenue grew to $1 billion. From 1994 – 1997, Chris was at Salomon Brothers. He began his career as an Investment Banking Analyst with PaineWebber in 1992.




Chris grew up in Southern California and attended Claremont McKenna College, where he graduated magnum cum laude with a BA in Economics and Government in 1992.

Richard Beleutz

Title

CEO

@

Company

AIR Asset Management

Role

Panelist

Rich is responsible for overseeing and directing AIR Asset Management's overall strategic growth and initiatives. He draws from his diverse deal experience in the realms of private equity and investment banking, and has operations experience as principal of three hedge funds. Since 2006, Rich has launched a life settlement brokerage business, a life settlement trading hedge fund, and a life expectancy company. Rich's thought leadership in the alternative investments space has been sought after for interviews and industry conference speaking engagements. Rich graduated from the University of Michigan with a BA in Economics in 1992.
About
Glide Capital
Glide partners with wealth advisors, family offices and institutional investors to build a customized portfolio, based on the specific objectives of their firm. Glide eliminates the significant financial and time commitment normally required to build a diversified portfolio by providing our clients with manager souring, due diligence, technology, research and a unique structure that allows firms to efficiently manage portfolios through their custodian. Glide has an experienced investment team which has reviewed over 600 private credit managers. Our goal is to provide the wealth managers with a best in class private credit offering which allows them to build better portfolios in an efficient manner. Glide Capital is SEC registered and has over $500 million in assets under management. Glide works with both US and international wealth management firms.
AIR Asset Management
AIR Asset Management is a rapidly growing hedge fund management firm based in downtown Chicago. AIRAM is the US-strategic partner of Carlisle Management, a $2.3B global investment firm solely dedicated to the life settlement space since inception in 2008 with senior management having a combined 80 years of experience in the asset class. We focus on providing investors attractive returns that are non-correlated to traditional asset classes through open-end hedge fund and private equity style closed-end vehicles. AIRAM is a strong believer in socially responsible investment strategies, and we promote these efforts through our voluntary membership in the Principles for Responsible Investment.
Oak Shore Capital
Oak Shore Capital is an investment management firm seeking absolute return strategies. Oak Shore acquires monthly portfolios of fresh charged-off consumer debt directly from originating lenders; and uses owner-run third-party collections agencies and a systematic approach to capture front loaded streams of cash flow.
Stablis Capital Management
Founded in 2010, Stabilis Capital Management, LP is a New York City based privately held investment firm. The firm specializes in asset oriented distressed debt and other unique special situations, primarily in the United States. The firm has raised over $1.7 billion since its inception in 2010. Stabilis' investments include acquiring existing distressed, sub-performing and performing loans, direct lending secured by real estate, asset-based lending, and healthcare secured lending. Stabilis' investment team and special servicing teams are fully integrated and have significant experience investing through multiple credit cycles. Our focus is on maximizing risk-adjusted returns for all investors while seeking to mitigate downside risk. Stabilis excels in sourcing, analyzing transaction complexity, deal structuring, underwriting and asset management of its investments.
Dream America
Dream America LLC offers rental homes to clients who want to buy a home but need additional time to qualify for an FHA or VA mortgage due to divorce, medical issues or other factors. Dream America allows approved clients to pick any house listed for sale. Dream then buys the home and rents it back to the client until they are mortgage-ready. And to help them on their journey, Dream credits 10% of rents paid towards their purchase. The company launched in 2018 and currently operates in major metro areas of Florida, Georgia and Texas.