Multi Family Real Estate Update: Perspective From Different Regions
Hosted by Weinberg Wheeler Hudgins Gunn & Dial, LLC
October 22, 2020
11:00 AM - 12:00 PM ET
Panel
The panel will explore COVID-19's impact on occupancy rates, rents, valuation, cap rates, and predicting market trends over the next several months.
Headwinds for the multifamily sector?

Is it time to invest in multifamily for the long-term?

How to value real estate during a pandemic?

How will the multifamily sector look a year from now?

Market predictions six and twelve months out.
Event Recording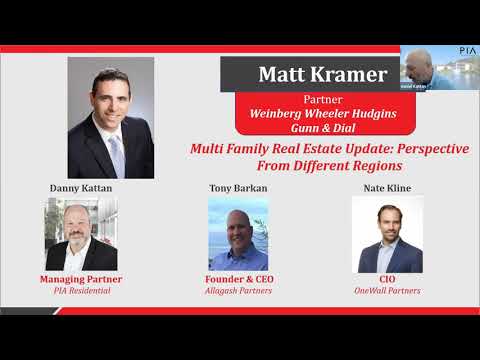 Multi Family Real Estate Update Perspective From Different Regions
Speakers
Matthew I. Kramer

Title

Partner

@

Company

Weinberg Wheeler Hudgins Gunn & Dial, LLC

Role

Moderator

Corporate transactional attorney with a focus representing owners, developers, buyers and distressed investors in a wide array of real estate transactions. Experience structuring mezz, private equity and EB5 transactions. Represent landlords and tenants on lease transactions. Experience with construction financing, code compliance, title, and corporate restructuring matters. Handle commercial foreclosures on behalf of servicers and lenders. Counsel start-up ventures and assist companies in the purchase and sale of assets.

Danny Kattan

Title

Managing Partner, Capital Markets

@

Company

PIA Residential

Role

Panelist

Mr. Daniel Kattan is a Principal and Co-founder of PIA Residential "PIA". Mr. Kattan serves as the Managing Partner of Capital Markets and is responsible for all aspects of capital raising and investment activity. Throughout his career, Mr. Kattan has more than 15 years of real estate experience and has been involved in the financing and acquisition of over 1000 single-family and multifamily units. He was instrumental in the financing, refinancing, and disposition of PIA's portfolio and was responsible for structuring more than $180 million in non-recourse debt.

Mr. Kattan is also the Founder and CEO of the real estate platform Sell2Rent and the Co-Founder and Executive Manager of W.I.N.E. The Wharton International Network of Entrepreneurs, a nonprofit in conjunction with the Wharton School of Business.

Prior to creating PIA, Mr. Kattan distinguished career was comprised of senior positions with both Countrywide Financial and the Pan-American Investment Fund for Chile's Grupo CB. He advised investors consulting on non-performing note pools and focused on the financial, real estate, transportation, and infrastructure sectors in these roles. He also successfully launched internet services, advanced telecommunications, and biotechnology companies.

Currently, Mr. Kattan serves on the Board of Advisors for BBVA Bank, the Planning and Zoning Board of the City of Hallandale, the Advisory Board for the Center of Advanced Jewish Education, and Chairman of Board of C.H.A.P., the Community Hebrew Afterschool Program. Mr. Kattan is a member of the Entrepreneur Organization "E.O" and a frequent contributor to the Forbes Business Journal.

Mr. Kattan graduated cum laude from Northeastern University with a B.A. in Industrial Engineering. He attended The Wharton School of Business at the University of Pennsylvania, where he earned an M.B.A specializing in Finance.

Tony Barkan

Title

Founder, CEO and Managing Principal

@

Company

Allagash Partners

Role

Panelist

Tony Barkan is the Founder, Managing Principal, and CEO of Allagash Partners. Prior to founding Allagash, from 2008-2015, Mr. Barkan was one of five Founding Principals and the Head of Commercial Real Estate at Seer Capital Management, an SEC-registered investment management company with $4 billion AUM. Mr. Barkan planned and executed Seer's LMI workforce housing value-add strategy; developed and ran the second largest global CMBS B-Piece investment businesses, driving transactions on over $20 billion of US CRE properties; and structured and invested into significant Mezzanine Loan exposure. Prior to Seer Capital, from 2001-2008, Mr. Barkan built and ran alternative investment platforms at Clinton, Harbert, and Sailfish managing portfolios with peak investor equity over $1 billion, a peak long asset portfolio over $10 billion, and peak total market exposure of almost $20 billion while leading teams as large as 20 people.

Notably, Mr. Barkan was an early identifier of the real estate-led economic crisis and by the beginning of 2007 had migrated his hedge fund portfolio to be entirely short using real estate-backed credit derivatives . From 1997-2001, Mr. Barkan was a Senior Portfolio Manager and investment committee member at Pareto Partners (originally Forstmann-Leff). Mr. Barkan began his career trading a range of real estate, commodity, and currency products at Salomon Brothers, Goldman Sachs, and ED&F Man Group from 1988-1997 . Mr. Barkan supports Here Arts Center, Scholars at Risk, and CaringKind: The Heart of Alzheimer's Caregiving. Mr. Barkan graduated from Princeton University where he was selected to the Honor Committee, and he is a member of the Triple Nine Society.

Nate Kline

Title

Partner, Chief Investment Officer

@

Company

OneWall Partners

Role

Panelist

Mr. Kline is a Partner, Founder and the Chief Investment Officer of OneWall Partners™ where he drives investment strategy and acquisitions. Prior to launching OneWall, Nate founded Genuity Partners where he provided advisory and consulting services and conducted financial training programs worldwide. Previously, Nate managed valuation, due diligence and financial analysis on more than $8 billion of transactions at Fortress Investment Group. While at Merrill Lynch, he executed five exclusive/lead advised M&A deals worth $13.5 billion. Nate graduated from the Smeal College of Business and Schreyer Honors College at Pennsylvania State University where he obtained a B.S. in Finance and a B.A. in Economics in 2003.
About
PIA Residential
PIA Residential is a private equity real estate firm with a proven track record, buying and managing residential properties in the Southeast Unites States. During the last decade, PIA invested heavily in the single-family and medium-sized multifamily market; and through successful management and repositioning, PIA reaped the benefits of tremendous value appreciation. PIA's seasoned team of professionals brings over 180 years of combined experience in selecting, evaluating, structuring, financing, improving, managing, and selling multifamily assets. With an institutional mindset and entrepreneurial spirit, conservative underwriting, and defensive acquisition strategies, PIA strives to produce above-average, risk-adjusted market returns for our Family Office and HNW individual investors.
Weinberg Wheeler Hudgins Gunn & Dial, LLC
Weinberg, Wheeler, Hudgins, Gunn & Dial, LLC is a full service law firm located throughout the Southeast and Nevada.
Allagash Partners
Allagash Partners offers institutional and HNW investors strategies focused on the wealth of opportunities within the US residential real estate market, stemming primarily from the longstanding, massive shortage in affordable working-class rental properties. These investments are currently being offered as both multi-property private equity real estate funds and as single property investments for compelling opportunities that do not fit within any current Fund's mandate. The strategies are designed to be scalable and to consistently provide 15%+ net returns while also preserving investor's capital. Allagash, through its subsidiary Allagash Opportunity Zone Partners which is in process of registering both with the SEC as an RIA and with the CDFI Fund at the Department of Treasury as a Community Development Entity, began active investment activities in 2019 with the Allagash Opportunity Zone CRE Fund I. The firm is now launching the Allagash Multifamily Opportunity Fund I, which seeks to opportunistically purchase, intelligently renovate, efficiently manage, and strategically sell underperforming working-class rental housing properties throughout the US. Allagash was founded by Tony Barkan who serves as Managing Principal and CEO and chairs the investment and operations committees. Allagash's senior partners bring over 100 years of commercial real estate experience with particular expertise in working-class multifamily housing especially in secondary US markets, which Allagash believes can provide investment opportunities with outsized returns and moderate risk. Additionally, Allagash believes that projects which actively seek to provide a positive social impact should generate higher returns while presenting lower risk. As a result, Allagash seeks to work closely with communities into which it invests in order to understand their community development goals and methodologies for improving stability and resiliency.
OneWall Partners
OneWall Partners™ is a vertically integrated real estate firm focused on transit and lifestyle-oriented workforce housing in the northeast US. We drive value for our investors and communities through in-depth research and analysis, sound acquisition strategy, innovative asset management and leverage in-house property management (OneWall Management™) to control 100% of our operations. We pioneered the acquisition of naturally-occurring affordable housing and our exceptional reputation and relationships lead to robust deal flow within our target markets. Our Nova Appian Preferred Income Fund I is designed to deliver diversified, superior risk-adjusted returns from our proven investment niche via low volatility, short duration investments in preferred equity.