Italian Residential Investment Opportunity in Perugia
Hosted by SOCIETE PRIVEE D'INVESTISSEMENT s.a.
October 20, 2022
11:00 AM - 11:30 AM ET
Webcast
The province of Perugia shows a strong growth potential for the residential and tourist accommodation sector. Our development hypothesis is focused on the senior living sector and its various innovative forms senior living, assisted living and spec homes built to sell.
Our idea for the development "The City of the Future" is therefore based on the inclusion of functions related to senior living and lifestyle. The whole area will be completed with shared facilities such as fitness trails, green spaces, community gardens, restaurant, wellness area available exclusively for the residents of the private apartments, assisted living apartments and live in senior care units.
Our Highest & Best Use Analysis was based on the following assumptions:
–Return maximization on the already constructed building (selling at prime market price)
–Valorization of the maximum buildable surface allowed
–Valorization of the entire land plot with community facilities
*The analysis is available upon request
**Owner wants to sell the entire land plot comprising a fully completed multi-family building with 19 apartments and related facilities, for more information, please visit the marketplace listing.
***There is significant ability to continue development of the land and community "The City of the Future."
Outstanding location, just few minutes away from Perugia (provincial capital of the Umbria Region) and approximately 70 to 80 miles ( 120 to 135 kilometers ) away from both Florence and Rome respectively ( less than 90 minutes drive by car )

The Property consists of a land plot of ca. 970,000 sq ft (90,000 sq m) situated in a centuries-old natural park in the Umbrian countryside, near Perugia

A residential building of 27,000 sq ft (2,500 sq m) (19 apartments) already completed with high quality finishing; 81 garages/parking spaces in addition to a wellness area of 6,350 sq ft (590 sq m) including a swimming pool and gym, are ready to be sold

Possibility to additionally develop another three existing buildings with a total buildable area of ca. 70,000 sq ft (6,500 sq m) with a wide range of development options already approved by local Urban Plan (Including Multifamily, Senior Living, Serviced Apartments, Student Housing, Hotels etc.)

High Teens IRR expected and particularly compelling investment case for US Dollar Buyers given extremely favorable US$/Euro exchange rate and interest rate arbitrage opportunity (Local EU interest rates lower than US)

Ticket size/asking price: Euro 12 million
Event Recording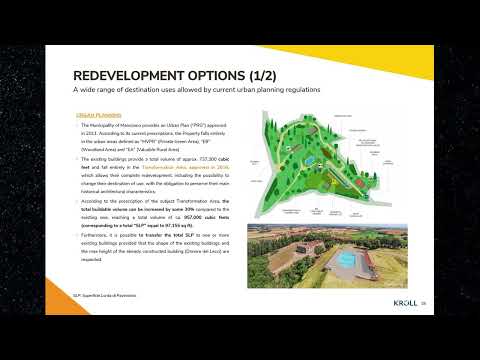 Italian Residential Investment Opportunity in Perugia
Attachments
Information Memorandum_Perugia Due FLAIA

Information Memorandum Perugia Due FLAIA.pdf
Speakers
Fabrizio Lauro

Title

Managing Director

Role

Speaker

Fabrizio is Managing Director and CEO of the company Transaction Services S.r.l., based in Milan, Italy.

With over twenty years of experience, Fabrizio leads a team specialised in capital markets transactions, transaction advisory and real estate advisory services for institutional and corporate clients.

Prior to joining Kroll in 2021, Fabrizio held various management positions in Europe in the Finance and Business Development functions of General Electric, in the Investment Management sector as Head of Asset Management Europe at D.B. Zwirn & Co., as CFO and COO of Spazio Investment N.V. and as CEO of Arkos Capital SA, a Swiss hedge fund manager for institutional investors. Subsequently he was also Head of Business Development & Fund Raising and member of the Investment Committee at InvestiRE SGR.

He regularly participates as a speaker at events and conferences in the real estate sector.

He graduated magna cum laude in Economics from the University of Genoa/University of Edinburgh and obtained its real estate broker license from the Milan Chamber of Commerce.

Leone Recchi

Title

Associate Director

@

Company

KROLL Transaction Services

Role

Speaker

Leone has over 8 years' experience in the real estate industry matured between UK and Italy, holding several different positions in real estate consulting firms throughout his carrier.

Prior to joining Kroll in 2022, Leone was Associate Director of CBRE Capital Markets team in Italy and was involved in advising real estate investors on asset and share deals, with focus on the different asset classes with a specialization on the 'living' and 'office' sectors.

Sergio Mazzocchi

Title

Chief Executive Officer

@

Company

SOCIETE PRIVEE D'INVESTISSEMENT s.a.

Role

Speaker

Sergio runs a multi-family office and helps clients all over the world to solve complex problems and achieve substantial lasting improvements in in their financial investments. His mission and commitment to serving his clients started in 1994.

Sergio has a PhD in Economics from the Università degli Studi di Bergamo and attended 3 Executive Masters in Alternative Investments.

He completed a Master in Financial Analysis and is an European Chartered Financial Analyst, he currently holds a designation and its a Member of EFFAS (European Federation of Financial Analysts Societies) and Member of AIAF (Associazione Italiana Analisti Finanziari)

Currently his areas of focus include the following:

- Strategic Asset Allocation

- Tactical Asset Allocation

- Portfolio Construction

- Liquid / Illiquid Investments (Private Equity and Real Estate)

- Manager Selection

- Portfolio Management

- Principal Investing

- Risk Overlays

- Back / Middle Office

- Compliance & Legal Overview
About
KROLL Transaction Services
Kroll Transaction Services is the independent company of Kroll specializing in real estate consulting and brokerage. It manages the international business line dedicated to portfolios and corporate, instrumental and ex-instrumental properties subject to extraordinary investment and divestment transactions. It supports the Client in making the negotiation process more fluid and efficient, so as to reduce the time of operations and maximize economic objectives. Kroll Transaction Services is present in Italy with offices in Milan (Agrate Brianza) and in Rome and has a team of professionals in technical, financial and commercial training with recognized expertise in the supply chain of real estate services.
SOCIETE PRIVEE D'INVESTISSEMENT s.a.
PRIVATE EQUITY AND REAL ESTATE INVESTMENTS COMPANY
SOCIETE PRIVEE D'INVESTISSEMENT S.A. (SPI SA) is an international and private "investment - merchant bank", founded in May 1999 by private (family office) and institutional (investment funds) investors focused on securities and / or real estate investments worldwide in small and medium-sized enterprises.
SPI S.A. is a medium-long term investor with a very high and sophisticated industrial and financial approach with active investment management thanks to the services offered by SPI S.A. to investee companies.
In the selection of investments, "build up" projects are privileged, accelerating the growth and enhancement of investee companies.
SPI S.A. also operates in Private Equity and Venture Capital by exploiting the skills of its team and its consultants, invests and co-invests in opportunities with high growth potential, offering capital, financial and industrial strategies among the most innovative on the market as well as strategic and operational resources dedicated to high professionalism.
WEBSITE: https://www.spi-sa.eu