Investing in Real Estate
Hosted by First Horizon Bank
March 26, 2020
10:30 AM - 11:30 AM ET
Panel
Join us for a panel on Investing in Real Estate to learn from our expert panelists while they provide an overview of what they are seeing today as we are move through the early stages of the impact from COVID-19. Each of the panelists will have an opportunity to speak about their strategy, performance expectations and their teams while they discuss their observations surrounding todays current events. Each panelist will provide investors and asset class managers with insight into their thought processes around risk mitigation and potential opportunity coming out of the current environment. As the dust begins to settle in their respective niches, our experts that have a long track record in the following areas of Workforce Housing, Hotels, Office Buildings, Insurance & Distressed Real Estate Investing will talk about how they are thinking about capturing the opportunities.
Event Recording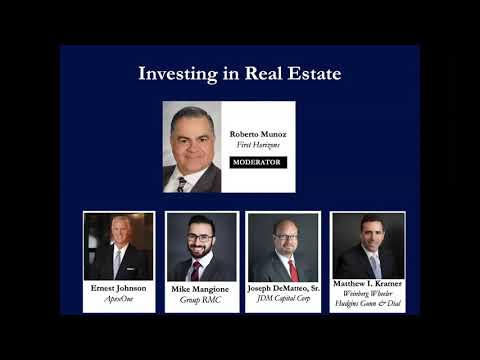 Investing In Real Estate, FLAIA's Real Estate, Direct Lending and Private Debt Forum 100% Virtual
Speakers
Roberto Munoz

Title

President of the Miami Market for Commercial Banking & Wealth Management

@

Company

First Horizon Bank

Role

Moderator

Roberto R. Muñoz brings more than 40 years of financial experience to his leadership role as President of the Miami Market for Commercial Banking and Wealth Management at First Horizon Bank, a $42 billion bank with over 275 branches headquartered in Memphis, Tennessee. He was previously Commercial Banking and Wealth Team Leader for South Florida for Synovus Bank. In his banking career, Mr. Muñoz has facilitated more than $28 billion of economic activity in Florida, the Caribbean, Central and South America in the areas of project finance, M&A, direct and indirect foreign investment, commercial, public, institutional, and specialty lending areas, as well as, global wealth and treasury management services. Prior to joining First Horizon Bank and Synovus Bank, Mr. Muñoz held executive positions in Miami with BBVA Compass Bank (President, South Florida Market), Professional Bank (Chief Lending Officer and Senior EVP), Marquis Bank (CEO, President, CLO, and Voting Member of the Board of Directors), Regions Bank (Senior Managing Director), Israel Discount Bank (Chief Lending Officer for Florida), Mizuho Bank (Chief Representative), and Barclay's Capital, PLC (VP). He began his career with Bank of America in 1980. Mr. Muñoz earned an associate degree at Miami-Dade College, and a bachelor degree in finance and international business from Florida International University and now holds numerous diplomas and certificates in the field of banking. He is a visiting professor at FIU, and speaks regularly to professional and civic organizations on banking, civic, and leadership topics. Mr. Muñoz is the 2020 and 2019 chairman of the World Trade Center Miami and serves in leadership roles in other South Florida civic organizations. He is the secretary of the executive board of the Miami-Dade Beacon Council and it's Foundation, and chair of the Advantage Miami Development committee; treasurer and finance committee chair of the executive board of the Greater Miami Chamber of Commerce; former chairman and president of the Florida International Bankers Association. He serves on the executive and advisory board of The Center for Financial Training Southeastern Chapter; the advisory board of the Center for Leadership at Florida International University; advisory board member of the Tibor and Sheila Hollo School of Real Estate at Florida International University; board member of the Florida Alternative Investment Association; and is a member of the Hong Kong Business Association of Florida. Received the "Banker of the Year Award" from the South Florida Hispanic Chamber of Commerce in March 2020. Mr. Muñoz and his wife Tere have five children, and have been named "Parents of the Year" by the Miami-Dade Public Schools in 2019, 2018 and 2017.

Ernest Johnson

Title

Executive Managing Director

@

Company

ApexOne Investment Partners

Role

Panelist

Ernest is an Executive Managing Director with ApexOne Investment Partners, a private equity firm investing in the multifamily sector. Ernest focuses on capital markets, fund strategy, financial administration, and investor communications. Ernest has extensive real estate experience with some of the industry-leading firms, including 17 years with PM Realty Group and 10 years with JMB Property Company.

Immediately following graduation from college, he managed a national multifamily student housing portfolio and was responsible for all facets of operations, including acquisitions, dispositions, construction, and finance.

Ernest is actively involved with National Multifamily Housing Council. He serves on the Advisory Council for Auburn University's Master of Real Estate Development program and is also on the University of Florida's Bergstrom Real Estate Center Advisory Board. Ernest previously served as the Chairman of the Board of Trustees for the Lone Star Chapter of the National Multiple Sclerosis Society and has been inducted into the MS Society's National Fundraising Hall of Fame. Ernest graduated with a Bachelor of Science in Business Administration from Auburn University (1980).

Michael Mangione

Title

Director, Family Offices and Advisor Relations

@

Company

Group RMC

Role

Panelist

Michael is the Director of Family Offices and Advisor Relations at Group RMC. He is responsible for establishing, developing and maintaining business relationships with Family Offices and Investment Advisors. He is also responsible for marketing the business in Canada and in the US. Michael graduated with a Bachelor of Commerce with a concentration in accounting from Concordia University. He holds the CPA, CMA designation.

Joseph W. DeMatteo Sr.

Title

Founder & President

@

Company

JDM Capital Hospitality Management

Role

Panelist

For almost three decades, Joseph has been a leading industry expert in the fields of hospitality and real estate management. His expertise in all facets of hospitality allows him to create one of a kind experiences that drive consumer demand and consistent returns for investors. An industry thought-leader and dedicated teacher, Joseph has spearheaded the asset management and hospitality programs as a faculty member and lecturer at NYU Masters Program at the Real Estate Institute, and Northeastern University's D'Amore McKim School of Business.

His educational accomplishments include a B.S. in Finance from the State University of New York, the completion of an Executive Management Program from Harvard Law School, a Degree in Building and Construction Management, Certificates in International Business and Finance & Hotel Operations all from New York University.

Matthew I. Kramer

Title

Partner

@

Company

Weinberg Wheeler Hudgins Gunn & Dial, LLC

Role

Panelist

Corporate transactional attorney with a focus representing owners, developers, buyers and distressed investors in a wide array of real estate transactions. Experience structuring mezz, private equity and EB5 transactions. Represent landlords and tenants on lease transactions. Experience with construction financing, code compliance, title, and corporate restructuring matters. Handle commercial foreclosures on behalf of servicers and lenders. Counsel start-up ventures and assist companies in the purchase and sale of assets.
About
ApexOne Investment Partners
ApexOne Investment Partners, LLC, a Texas limited liability company, is headquartered in Houston, Texas, with offices in Chicago, Illinois, Boca Raton, Florida, and Phoenix, Arizona, and, together with its affiliates, has substantial experience in real estate acquisition, syndication, financing, development, and disposition, as well as real estate transaction management. James A. Hearn, Ernest Johnson, Tim Burns, William Saul, and David Steele are the principals of ApexOne (the "Principals").
Following on the success of ApexOne Growth & Income Fund I, LP, a Delaware limited partnership ("Fund I"), ApexOne Growth & Income Fund II, LP, a Delaware limited partnership ("Fund II"), and ApexOne Multifamily Fund III, LP, a Delaware limited partnership ("Fund III"), ApexOne has formed ApexOne Multifamily Special Situation Fund IV, LP, a Delaware limited partnership (the "Partnership"), to make investments in direct and indirect equity interests in multifamily residential properties, including those requiring capital infusion, repositioning, post-development leasing or which may be subject to a distressed sale, as well as indebtedness secured by such multifamily residential properties.
ApexOne Investment Partners has acquired 46 properties and invested over $1.5B in workforce and student housing communities over the last seven years. ApexOne prides itself on providing excellent living environments to its residents, high returns, and transparent communications to its investors while reducing the environmental impact of their properties. Their fund level returns on fully cycled properties have averaged over 28% and Over 94% of ApexOne's investors have repeatedly invested in all three of their Funds.
JDM Capital Hospitality Management
JDM Capital Hospitality Management Group provides operating and financial support for the day to day management and asset oversight of Hospitality assets. We are actively seeking Redevelopment, Re-Purposing and Acquisitions to be repositioned as a *participating mezzanine, *preferred equity, *GP, and *co-GP partner with a focus on operational control positions.
Group RMC
Group RMC is a real estate Co-Investment group based in New York, Montreal and Columbus that invests in and is the general partner in undervalued income-producing office properties in non-gateway U.S. markets. Group RMC currently oversees over 21M square feet in the US, principally in the Midwest, representing over USD $2.5 Billion in asset value.
Weinberg Wheeler Hudgins Gunn & Dial, LLC
Weinberg, Wheeler, Hudgins, Gunn & Dial, LLC is a full service law firm located throughout the Southeast and Nevada.
First Horizon Bank
First Horizon National Corp. offers capital market services, regional banking and wealth management through our First Horizon family of companies.Fixed IncomeFHN Financial is an industry leader in fixed income sales, trading, and strategies for institutional customers in the United States and abroad. The company also provides investment services and balance sheet management solutions. FHN Financial is an important part of First Horizon's business model, as it provides unique countercyclical benefits and complements our approach to managing our company for soundness and profitability throughout shifts in the economy.With an average daily trading volume of $5+ billion, FHN Financial has transacted business in recent years with approximately 50% of all US banks with portfolios more than $100 million.FHN Financial is comprised of six entities: FHN Financial Capital Markets, FHN Financial Securities Corp., FHN Financial Capital Assets Corp., FHN Financial Portfolio Advisors, FHN Financial Municipal Advisors, and FHN Financial Main Street Advisors. Based in Memphis, Tenn., FHN Financial has nearly 30 offices throughout the United States.Regional BankingFirst Horizon Bank is committed to making your banking experience the best it can be with innovative, convenient services and helpful, knowledgeable people. From your first checking account to the loan you need to build a home or business, we are committed to helping you at every stage of your financial life.With a network of approximately 250 bank locations across the Southeast, we make it easy to help you take good care of your money.Wealth ManagementWith 30 trust officers, 86 financial advisors, 10 financial planning professionals, and $32 billion in assets under administration, First Horizon Advisors' mission is to provide you with access to a range of resources that can help you build the financial future you deserve.Every product, every service, and every person in our organization is dedicated to helping you maximize your financial potential and reach your investment goals. Whether you need advice and guidance with investments, trusts, financial planning, or more, our advisors have the expertise to provide peace of mind and clear direction.