How Purchasing 400SFR and 400 Small MF Units during the Global Financial Crisis (2009) is Helping Us Navigate Today's Environment
Hosted by PIA Residential
March 18, 2021
10:30 AM - 11:00 AM ET
Keynote
Danny Kattan, Managing Partner of Capital Markets, PIA Residential, will provide an overview and revisionist history of PIA Residential's successful transition from single-family and small multifamily to the institutional multifamily space. This discussion will detail the differences between the two market segments and how this growth model uniquely prepared PIA Residential for the pivot to the institutional space and the pandemic. This discussion will cover direct lending, vertical integration, scaling into a full-service real estate private equity firm, and valuable lessons learned along the way. He will also explain how PIA Residential views the multifamily sector's current state, forecast trends, and outlook prognosis.
Transitioning from SFR to Multifamily – What we learned, How it prepared us, What would we do differently

How our background has prepared us to navigate the environment today

Disposing of a portfolio of SFR and Small Multifamily to pivot into Institutional Multifamily

Converting a Vertically Integrated SFR Company into a Full-Service Real Estate, Private Equity Firm focused on Institutional Multifamily Assets

The Current State of Multifamily and Forecasting Trends and Outlook for Multifamily: Cap Rates, Quality of IRR, Growth Markets, and Pricing
Event Recording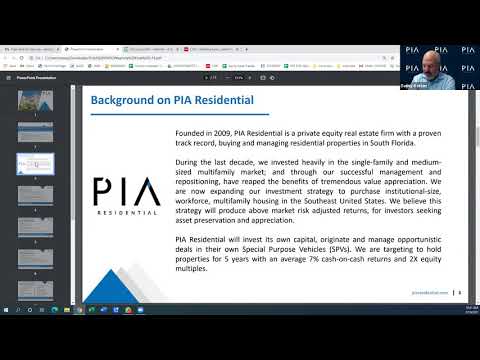 How Purchasing 400SFR & 400 Small MF Units during the GFC (2009) is Helping Us Navigate Today
Speaker
Danny Kattan

Title

Managing Partner, Capital Markets

@

Company

PIA Residential

Role

Speaker

Mr. Daniel Kattan is a Principal and Co-founder of PIA Residential "PIA". Mr. Kattan serves as the Managing Partner of Capital Markets and is responsible for all aspects of capital raising and investment activity. Throughout his career, Mr. Kattan has more than 15 years of real estate experience and has been involved in the financing and acquisition of over 1000 single-family and multifamily units. He was instrumental in the financing, refinancing, and disposition of PIA's portfolio and was responsible for structuring more than $180 million in non-recourse debt.

Mr. Kattan is also the Founder and CEO of the real estate platform Sell2Rent and the Co-Founder and Executive Manager of W.I.N.E. The Wharton International Network of Entrepreneurs, a nonprofit in conjunction with the Wharton School of Business.

Prior to creating PIA, Mr. Kattan distinguished career was comprised of senior positions with both Countrywide Financial and the Pan-American Investment Fund for Chile's Grupo CB. He advised investors consulting on non-performing note pools and focused on the financial, real estate, transportation, and infrastructure sectors in these roles. He also successfully launched internet services, advanced telecommunications, and biotechnology companies.

Currently, Mr. Kattan serves on the Board of Advisors for BBVA Bank, the Planning and Zoning Board of the City of Hallandale, the Advisory Board for the Center of Advanced Jewish Education, and Chairman of Board of C.H.A.P., the Community Hebrew Afterschool Program. Mr. Kattan is a member of the Entrepreneur Organization "E.O" and a frequent contributor to the Forbes Business Journal.

Mr. Kattan graduated cum laude from Northeastern University with a B.A. in Industrial Engineering. He attended The Wharton School of Business at the University of Pennsylvania, where he earned an M.B.A specializing in Finance.
About
PIA Residential
PIA Residential is a private equity real estate firm with a proven track record, buying and managing residential properties in the Southeast Unites States. During the last decade, PIA invested heavily in the single-family and medium-sized multifamily market; and through successful management and repositioning, PIA reaped the benefits of tremendous value appreciation. PIA's seasoned team of professionals brings over 180 years of combined experience in selecting, evaluating, structuring, financing, improving, managing, and selling multifamily assets. With an institutional mindset and entrepreneurial spirit, conservative underwriting, and defensive acquisition strategies, PIA strives to produce above-average, risk-adjusted market returns for our Family Office and HNW individual investors.