DISRUPTING THE GLOBAL PHARMACEUTICAL INDUSTRY WITH CANNABINOID-BASED MEDICINE
Hosted by Avicanna
July 14, 2022
12:30 PM - 1:00 PM ET
Keynote
Introduction to Avicanna, an international commercial-stage biopharmaceutical company with a focus on commercial products and pharmaceutical pipeline
Canadian biopharmaceutical company with disruptive on cannabinoid based medical and pharmaceutical products

Commercial stage with growing revenues across 16 international markets

Industry leading scientific platform and IP portfolio established in Johnson and Johnson incubator since 2017

30+ commercial products including leading brand in Canada's leading pharmacy chain and an extensive pharmaceutical pipeline

Organic and low cost vertical integration and supply chain business in Colombia
Event Recording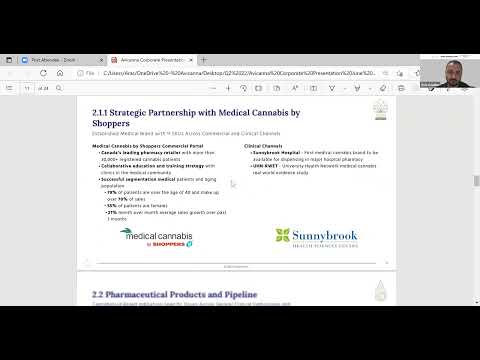 DISRUPTING THE GLOBAL PHARMACEUTICAL INDUSTRY WITH CANNABINOID-BASED MEDICINE
Speaker
Aras Azadian

Title

Chief Executive Officer

@

Company

Avicanna

Role

Speaker

Utilizing his extensive senior management experience in both financial and bio-technology sectors, Aras co-founded Avicanna with the vision of establishing a bio-pharmaceutical company with a strict focus on medical and pharmaceutical applications of cannabinoids. His expertise and experience in the biotechnology industry have been integral to Avicanna's thought leadership pertaining to R&D and clinical development. Since 2016 Aras has successfully led a team of executives, scientists, and medical professionals across several countries with the vision of vertical integration and a strong company focus on quality controls, scientific vigour and competitive advantages. Aras holds a Bachelor of Economics degree from York University and an International master's in management degree from EADA Business School in Barcelona, Spain.
About
Avicanna
Avicanna is a commercial-stage international biopharmaceutical company focused on the advancement and commercialization of evidence-based cannabinoid-based products for the global medical and pharmaceutical market segments. Avicanna has an established scientific platform including R&D and clinical development that has led to the commercialization of more than thirty products across various market segments:
Medical Cannabis & Wellness Products: Marketed under the RHO Phyto™ brand these medical and wellness products are a line of pharmaceutical-grade cannabinoid products containing varying ratios of cannabidiol ("CBD") and tetrahydrocannabinol ("THC"). The product portfolio contains a full formulary of products including oral, sublingual, topical, and transdermal deliveries that have controlled dosing, enhanced absorption and stability studies supported by pre-clinical data. The formulary is marketed with consumer, patient and medical-community education and training.
Pharmaceutical Pipeline: Leveraging Avicanna's scientific platform, vertical integration, and real-world evidence, Avicanna has created a pipeline of patent-pending drug candidates that are indication-specific and in various stages of clinical development and commercialization. These cannabinoid-based drug candidates look to address unmet medical needs in the areas of dermatology, chronic pain, and various neurological disorders. Avicanna's first pharmaceutical preparation (Trunerox™) is in the drug registration stage in South America.