The Case for Why Multi-Family Will Continue to Outperform
Hosted by Boomerang Capital
March 18, 2021
11:00 AM - 12:00 PM ET
Panel
As we finish the 1st quarter of 2021, multifamily has performed well in these dynamic times. Our industry experts will discuss how they are navigating the new market realities concerning occupancy rates, rents, valuations, evictions and cap rates.
Additionally, ApexOne Investment Partners, Sunstone Property Trust and GSH Real Estate will provide insights into the new opportunities and numerous pricing dislocations facing the multifamily sector.
Why will Multifamily continue to outperform other sectors of CRE?

New Opportunities in CRE

Strategy: Speculative or Value Assets?

What are the broad misconceptions vs. realities on the ground?
Event Recording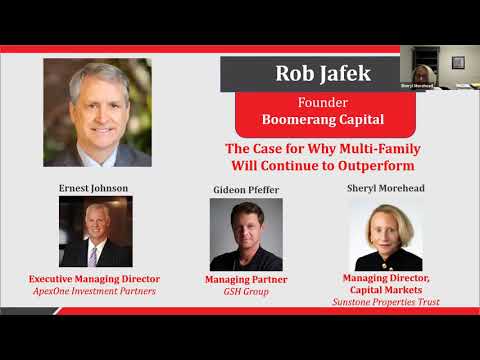 The Case for Why Multi-Family Will Continue to Outperform
Speakers
Rob Jafek

Title

Founder

@

Company

Boomerang Capital

Role

Moderator

Rob has been involved in all phases of Boomerang's development since its inception and oversees its operations. He previously held various principal investing roles including Head of International Trading for Nicholas Applegate Capital Management and Analyst at Tiger Management. He has founded and managed two alternative investment firms: Plumeria Advisors and Torrey Pines Capital Management. He started his career as an investment banking Analyst at Morgan Stanley. He received a BA in Finance from The University of Utah and a Masters in Innovation and Entrepreneurship from HEC Paris. He is a contributing member to Forbes.com and a member of the Forbes Real Estate Council and teaches business as an Adjunct Professor at the UC Berkeley School of Law.

Ernest Johnson

Title

Executive Managing Director

@

Company

ApexOne Investment Partners

Role

Panelist

Ernest is an Executive Managing Director with ApexOne Investment Partners, a private equity firm investing in the multifamily sector. Ernest focuses on capital markets, fund strategy, financial administration, and investor communications. Ernest has extensive real estate experience with some of the industry-leading firms, including 17 years with PM Realty Group and 10 years with JMB Property Company.

Immediately following graduation from college, he managed a national multifamily student housing portfolio and was responsible for all facets of operations, including acquisitions, dispositions, construction, and finance.

Ernest is actively involved with National Multifamily Housing Council. He serves on the Advisory Council for Auburn University's Master of Real Estate Development program and is also on the University of Florida's Bergstrom Real Estate Center Advisory Board. Ernest previously served as the Chairman of the Board of Trustees for the Lone Star Chapter of the National Multiple Sclerosis Society and has been inducted into the MS Society's National Fundraising Hall of Fame. Ernest graduated with a Bachelor of Science in Business Administration from Auburn University (1980).

Gideon Pfeffer

Title

CEO & Managing Partner

@

Company

GSH Group

Role

Panelist

Gideon serves as the CEO and Managing Partner and is responsible for strategic partnership initiatives and ventures, equity and debt opportunities, overseeing investment performance, and approving decisions on investments and acquisitions. He also oversees daily operations. Under Gideon's leadership and direction, in the last four and a half years, the GSH Group has raised and placed over $225 million of equity and assembled a portfolio of over 6,000 apartment units in five states, worth over a billion dollars.

Gideon has been featured in INC. Magazine and was selected as one of dBusiness Magazine's "30 in their 30s" honorees in 2017. He has served on various board and advisory roles for non-profit groups focused on community development and the revitalization of the City of Detroit. Having attended Syracuse University and as a recipient of various grants and scholarships, Gideon and his wife pay it forward by having created the Jaime and Gideon Pfeffer Scholarship Fund, created to support students in need attending Syracuse University.

Sheryl Morehead

Title

Managing Director, Capital Markets

@

Company

Sunstone Properties Trust

Role

Panelist

Before joining Sunstone as Director of Capital Markets, Ms. Morehead held positions in both the commercial real estate and banking industries. After starting her banking career in Citicorp's National Real Estate Group, Sheryl moved west and became division manager of commercial real estate industries for Bank of California/Mitsubishi managing a $4B portfolio and ten production offices. As CCO and President of First Los Angeles Bank and later, CEO of First Bancorp, she specialized in transitioning challenged institutions with troubled real estate assets to regulatory compliance and profitability. Prior to earning an MBA at Harvard Business School, Sheryl worked for shopping center developer Lanning Corporation of Boston securing financing, leasing and property management. As EVP of M&M Development Corp., she was involved in every phase of development, financing and property management. Sheryl completed her undergraduate work at Boston University earning a BS in finance. At Sunstone, Ms. Morehead is in charge of raising capital on a direct basis to add to Sunstone's integrated framework. She sits on investment committee and is also responsible for debt placement and bank relations.
About
ApexOne Investment Partners
ApexOne Investment Partners, LLC, a Texas limited liability company, is headquartered in Houston, Texas, with offices in Chicago, Illinois, Boca Raton, Florida, and Phoenix, Arizona, and, together with its affiliates, has substantial experience in real estate acquisition, syndication, financing, development, and disposition, as well as real estate transaction management. James A. Hearn, Ernest Johnson, Tim Burns, William Saul, and David Steele are the principals of ApexOne (the "Principals").
Following on the success of ApexOne Growth & Income Fund I, LP, a Delaware limited partnership ("Fund I"), ApexOne Growth & Income Fund II, LP, a Delaware limited partnership ("Fund II"), and ApexOne Multifamily Fund III, LP, a Delaware limited partnership ("Fund III"), ApexOne has formed ApexOne Multifamily Special Situation Fund IV, LP, a Delaware limited partnership (the "Partnership"), to make investments in direct and indirect equity interests in multifamily residential properties, including those requiring capital infusion, repositioning, post-development leasing or which may be subject to a distressed sale, as well as indebtedness secured by such multifamily residential properties.
ApexOne Investment Partners has acquired 46 properties and invested over $1.5B in workforce and student housing communities over the last seven years. ApexOne prides itself on providing excellent living environments to its residents, high returns, and transparent communications to its investors while reducing the environmental impact of their properties. Their fund level returns on fully cycled properties have averaged over 28% and Over 94% of ApexOne's investors have repeatedly invested in all three of their Funds.
Boomerang Capital
Boomerang Finance, LLC (the "Fund") has an investment objective of providing income with limited variability in returns. This is accomplished by providing short-term, business-purpose loans secured by real estate in a first lien position with the additional protections of a personal guarantee from borrowers and cross collateralization. All loans are self-originated, and risk managed through careful underwriting, thoughtful portfolio construction and consistent servicing. The majority of borrowers are return clients. Exposure is broad-based, and the Fund is structured as a REIT.
Sunstone Properties Trust
Sunstone is a fully integrated real estate operator, developer and fund sponsor in business since 2012. After 30 years in the commercial real estate business, the founders of Sunstone chose workforce multifamily housing as a sector because of its solid performance throughout varying economic cycles. Sunstone performs its own architectural design work, construction, asset management and fund management to achieve maximum efficiency, cost containment and investor returns. Its acquisition team sources transactions with proprietary software and a network of local brokers. Capital markets works with investors and lenders to optimize Sunstone's access to debt and equity. Risk is managed through a comprehensive due diligence and underwriting process with investment committee oversight. Hands-on portfolio management is effected from acquisition through disposition. Sunstone's markets include Texas, Florida, California, Arizona and Nevada.
GSH Group
The GSH Group is a privately held real estate investment firm specializing in the acquisition and management of multifamily residential properties in multiple markets that support economic stability, growth, and strong educational systems. Our growth-oriented strategy is a disciplined approach for acquiring and managing properties that fit our specific criteria. We carefully curate a portfolio of high cash-flowing opportunities for our investors. These properties are improved through simple and cost-efficient adjustments that are more predictable in scope and require less time to complete. GSH and its ESG-related Meadows brand focus on enhancing their communities with a concierge approach to improving their residents' lives while providing investors ethical and transparent communications with the opportunity to achieve superior returns on investments.