Tactical Allocation with a 12% Yield: The Next Generation of Active ETFs
Hosted by STF MANAGEMENT
September 15, 2022
11:00 AM - 12:00 PM ET
Webcast
Investors continue to seek income-producing investments. With rising interest rates, there is now more stress and volatility on traditional fixed income investments, increasing demand for alternative means of income generation.
TUG and TUGN represent the new wave of solutions-based ETFs that merge tactical equity allocation and options-generated income into one portfolio. Investors can realize consistent monthly yield while still participating in market upside, all within a tax efficient
ETF vehicle.
With income products experiencing sustained losses, investors have a rare opportunity to capitalize on tax loss harvesting trades. Thomas Campbell and Jonathan Molchan, Managing Partners and Portfolio Managers at STF Management, discuss the core methodology and drivers to the TUG rule set and how this can provide solutions to the challenges of asset allocation.
STF Management Press Release: New ETF Issuer, STF Management, Launches First Two ETFs on the Nasdaq
Exchange (prnewswire.com)
Why rules-based investing is critical in the current market environment.

How a tactical asset allocation strategy like TUG can be enhanced with an options overlay for monthly income.

Why alternative income sources are essential in a high inflationary environment.
Event Recording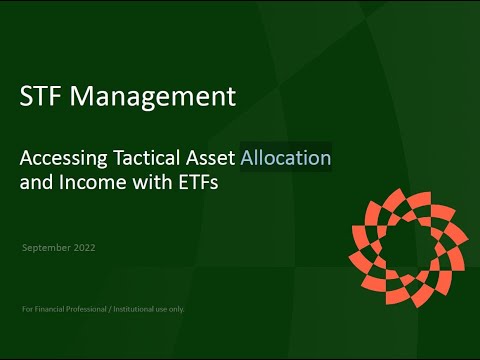 Tactical Allocation with a 12% Yield: The Next Generation of Active ETFs
Attachments
STF Management | TUG & TUGN | Investor Presentation

Institutional Webinar Deck.pdf

Fact Sheet TUGN

TUGN Q2 Fact Sheet (2).pdf

Fact Sheet TUG

TUG Q2 Fact Sheet (1).pdf
Speakers
Thomas Campbell

Title

Co-CEO & Portfolio Manager

@

Company

STF MANAGEMENT

Role

Speaker

Thomas is the mastermind behind algorithmic systems to formulate his Self-adjusting Trend Following (STF) fund and the Tactical Unconstrained Growth (TUG) fund and ETF. He specializes in tactical approaches to asset allocation.

BBA, McMurry University

CFP designation

Certifications, or Licenses, or honors here

Thomas is a financial executive with more than 28 years of experience. Before launching STF Management, he began his career with Fidelity Investments, with a specialization in retail marketing efforts. For 21 years Thomas worked with Transamerica Financial Advisors, Inc., in the Transamerica Financial Group Division — becoming an independent representative and advisor, a branch manager, and completing CFP designation.

He caught the active management bug prior to 2001, and ever since, focuses on tactical approaches to asset allocation. By 2008, these efforts culminated in the creation of the rule set for Self-adjusting Trend Following (STF) which remains a separately managed account offering and 1940 Act Fund from Flexible Plan Investments. In 2014, his second algorithmic system Tactical Unconstrained Growth (TUG) was created, and it too has been used as a separately managed account and 1940 Act Fund, this time through Q3 Asset Management. Additionally, TUG is an ETF model on Transamerica's TransOne platform through NASDAQ DorseyWright.

In his downtime, Thomas likes to play golf, do yard work, or build something in the garage. An avid reader, he's become a stock market history buff, and loves reading about the worlds' markets, economies, and intersection with politics. Spending time with his wife of 30 years and their two adult children (sons?) is a joy. Their favorite vacations include those not planned, leaving room for discovery and spontaneity.

Words of Wisdom? "Rather than seek happiness, we should seek joy. Joy is something much deeper and richer, that focuses on others and not just the hedonism of self-indulgence."

For speaking engagements, please contact us.

Jonathan Molchan

Title

Co-CEO & Portfolio Manager

@

Company

STF MANAGEMENT

Role

Speaker

Jonathan is a financial executive with 20 years in the industry covering quantitative derivatives' strategies, trading, research, and risk management. For 10 years he has specialized in derivatives and options-based ETFs.

BS, Finance, Sacred Heart University

Jonathan began his career at SAC Capital Advisors where he focused on long/short equity, as well as listed and OTC quantitative derivatives' strategies. At Millennium Management, he expanded his focus on long/short equity, global macro, and derivatives' trading, research, and risk management. A veteran in the space, Jonathan has also held roles at Cowen and Mirae Asset.

In 2013 Jonathan moved into the ETF industry, as he saw an opportunity to utilize his derivatives' experience to expand options-based ETFs to the investment community. Throughout his time focused on ETFs, he has served in numerous roles, including portfolio manager, product developer and manager, and a marketer of options-based strategies. Additionally, Jonathan is featured in industry publications and outlets, such as Bloomberg and Nasdaq, to discuss options and asset allocation.

When not working, Jonathan can often be found on a golf course, or spending time with his wife. In his downtime, Jonathan enjoys reading about retirement and investment strategies. He firmly believes all Americans should have tools to build retirement savings and access to a quality education — his motivating reasons to enter and stay in the financial field.

Words of Wisdom? "Make a change for people. We are judged based upon how we turn negatives into positives."

For speaking engagements, please contact us.
About
STF MANAGEMENT
STF Management LP is an SEC registered investment advisor headquartered in Frisco, TX. Our team is comprised of a variety of industry professionals who have specific expertise in financial services including hedge funds, investment banks, insurance companies and asset management firms. The STF team has a dedicated focus bringing investment solutions to clients, leveraging their experience in product development, management and distribution.