Rethinking Retirement Readiness – Income & Risk Mitigation Strategies for Today and Tomorrow
July 27, 2020
1:00 PM - 2:00 PM ET
Webcast
A steady decline in real interest rates since the 1980's has made it exceedingly more difficult for investors to generate reliable streams of income from traditional bond investing. The notable return of market volatility in the wake of the unprecedented economic impact stemming from the COVID-19 pandemic has further inspired investors to rethink their approach to risk management and its implication for retirement readiness.
Consequently, investors have increasingly sought out alternative investment strategies for both generating the supplementary income needed to address their retirement and other cash-dependent needs and for navigating current market volatility and avoiding longer term "variance drain" (the drag on compound returns stemming from volatility).
Join the Nationwide & Harvest Volatility Management team, as they conduct an educational and interactive webcast with a live Q&A session.
The current market environment and the lower-for-longer yield outlook

Vulnerabilities and key risks inherent to traditional and alternative income-oriented strategies that have been highlighted by the recent market environment

The value proposition and use cases for the Nationwide Risk-Managed Income ETF (NUSI), an innovative new alternative solution that systematically targets high current income, in concert with the added benefits of volatility reduction and downside risk mitigation

Added benefits to investors derived from the exchange-traded fund (ETF) structure.
Event Recording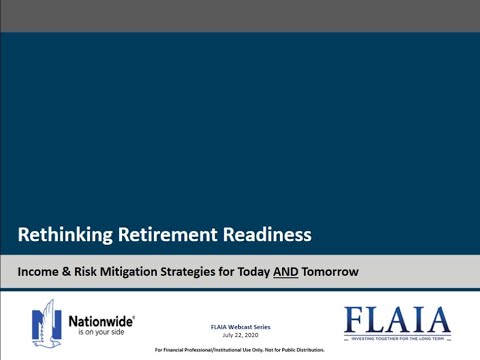 Rethinking Retirement Readiness – Income & Risk Mitigation Strategies for Today AND Tomorrow
Speakers
Michael Corcelli

Title

Founder & Chairman

@

Company

FLAIA

Role

Speaker

Mr. Corcelli is the Founder & Chairman of the FLAIA and has played a critical role in establishing the vision and building the management team for the FLAIA. In addition to his work with the FLAIA, he is a Managing Partner at Alexander Alternative Capital, LLC based in Miami. Prior to joining Alexander Alternative Capital, Michael worked for UBS AG where he was responsible for portfolio management and tactical asset allocation for private clients of UBS Global Wealth Management & Business Banking. Michael holds a Bachelor of Science degree from the University of Miami where he studied Business with a focus in Finance.

Jonathan Molchan, Harvest

Title

Managing Director & Portfolio Manager

@

Company

Harvest Volatility Management

Role

Speaker

Jonathan Molchan is a Managing Director and Portfolio Manager at Harvest Volatility Management, where he focuses on the management and creation of new investment solutions. Jonathan currently serves as the lead portfolio manager for the Nationwide Risk-Managed Income ETF (NUSI).

Prior to joining Harvest, Jonathan was a Portfolio Manager and Head of Product Development at Horizons ETFs US, where he managed the firm's options-based ETFs and helped lead all aspects of strategy development. He has also held roles in portfolio management, risk, trading and research at Recon Capital Partners and Millennium Management. He started his career as an analyst at SAC Capital Advisors where he focused on various quantitative volatility strategies in addition to global long/short equity.

Jonathan holds a B.S. in Finance from Sacred Heart University, where he was a Division I student athlete and a member of the men's golf team.

Thomas Munster

Title

Managing Director

@

Company

Profor Advisors

Role

Speaker

Tom Munster entered the financial services field as a retail financial advisor with PaineWebber Inc. in 1993 after spending 10 years at sea as a navigator on oil tankers and other vessels, globally. After a 3.5 year start and approximately $60 million in capital raised in the retail segment, Tom entered the hedge fund space, joining Clinton Group, a mortgage hedge fund. Between November 1997 and March 2004, Tom assisted Clinton Group in raising approximately $6.5 billion, while diversifying horizontally into convertible bonds, fixed income arbitrage, distressed, multi-strategy, and quantitative equity and launching the Firm's London office.

As an independent alternative marketer, Tom raised approximately $500 million for various hedge fund strategies between 2004 and 2009. In the aftermath of the Financial Crisis, Tom returned to in-house sales and marketing at Metacapital, a relaunched mortgage hedge fund, raising $1.6 billion in approximately 3.5 years. Tom subsequently transitioned back to an independent model to spearhead the asset raise for a startup "quantamental" fund, successfully launching the strategy with approximately $70 million in assets. Between November 2014 and August 2018, Tom was charged with leading the launch of a quantitative equity strategy with Clinton Group in a UCITS format, successfully raising $1.6 billion within 14 months across hedge fund, UCITS, and managed account formats.

Tom maintains a diverse partnership base which includes UHNW individuals, Family Offices, Endowments, Corporations, Insurance Companies, and Sovereigns and has collaborated with Nationwide to provide product placement and distribution service support for the Nationwide Risk-Managed Income ETF (NUSI).

Tom and his wife, Liz have been married for 33 years and have two grown children, both entrepreneurs. Tom enjoys boating, playing trumpet and trombone, and competitive and home barbecuing.

Mark Hackett

Title

Chief of Investment Research

@

Company

Nationwide

Role

Speaker

Mark Hackett serves as Chief of Investment Research. As a leader for Nationwide's capital markets analysis, Mark develops content to educate financial advisors and their clients on financial markets and implications for investors. In this role he is responsible for asset class research, market commentary, white papers and topical market pieces. He has been featured in numerous financial publications and webinars.

Mark brings more than 20 years of experience in the asset management industry, including roles in research for both Nuveen and Vanguard Group and as a portfolio manager for Nuveen. He began his investment career at the Vanguard Group as a research associate in the fixed income group.

Mark has been interviewed by and quoted in numerous media outlets, including The Wall Street Journal, CNBC.com, CNN Money, The Associated Press Money and several others. He also contributes weekly market commentary to the Nationwide Advisor Advocate Blog.

He earned his Bachelor of Science in Business Administration with concentrations in Finance and Economics at the University of Richmond, holds Chartered Financial Analyst (CFA) and Chartered Market Technician (CMT) designations and is a member of the CFA Institute.
About
FLAIA
FLAIA is an open access platform of alternative investments for institutions, wealth advisors, family offices, RIAs, and accredited investors. General Partners gain access to a vertically integrated digital & traditional fintech marketplace. Investors gain access to special opportunities, educational webcasts and digital events. All of our digital events, educational content and alternative investment opportunities are available in one place under a single sign on.
Nationwide
Nationwide is a diversified insurance and financial services Fortune 100 company with a long history of investing, having effectively navigated market turbulence for over 90 years, while delivering financial solutions since 1954.
A values driven asset management platform with a mutual heritage and an unwavering commitment to protecting people, businesses, and futures with extraordinary care, the Nationwide Fund Advisors (NFA) is an investment advisor offering a diverse range of products and services distributed through financial intermediary channels, retirement products, variable annuity, and life menus.
With a history dating back to 1933 and the creation of the Nationwide Fund, NFA deploys a subadvised model to deliver unique investment solutions and access to industry leading institutional money managers. With approximately $61.4 billion in assets under management as of March 31, 2020, NFA currently maintains partnerships with over 20 sub-advisors across more than 50 retail mutual fund, variable insurance trust fund, and exchange-traded fund offerings.
Harvest Volatility Management
Founded in 2008, Harvest Volatility Management is an experienced options and volatility risk-management investment firm that offers a robust suite of actively-managed options-based strategies that span yield enhancement overlays, risk reduction, alternative beta, and absolute return investment solutions.
Led by investment professionals with decades of expertise in advising, structuring, and managing option-related strategies, Harvest is an accomplished provider of derivative trading strategies, as well as risk-management solutions designed to enhance yield and reduce asset class risk exposure.
Profor Advisors
Profor Advisors offers professional marketing and sales consulting services to asset managers and places alternative investments with institutional investors worldwide. The combined years of experience and extensive networks of our group allow us to exceptionally tailor to each unique client situation throughout the capital raising process and beyond.