Private Debt & Direct Lending Opportunities in 2021
Hosted by FLAIA
April 15, 2021
12:00 PM - 1:00 PM ET
Panel
Private Credit offers the potential for a strong alternative to traditional fixed income but it is important for investors to understand the different types of private credit–especially in uncertain times like now. In this panel, we will explore the various strategies and their opportunities and risks. We will focus on both the challenges and opportunities in this current pandemic environment.
Review of 2020 Performance

Outlook for 2021

Inflationary or Deflationary Environment

Defaults & Restructuring

Navigating the New Normal in Private Debt and Direct Lending Origination
Event Recording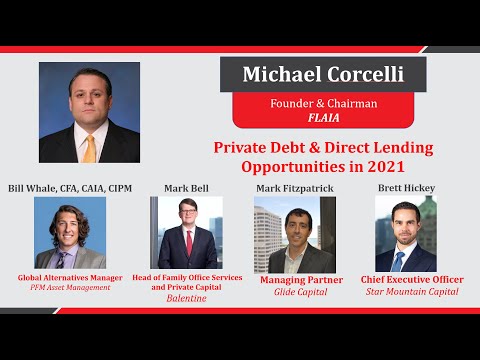 Private Debt & Direct Lending Opportunities in 2021
Speakers
Michael Corcelli

Title

Founder & Chairman

@

Company

FLAIA

Role

Moderator

Mr. Corcelli is the Founder & Chairman of the FLAIA and has played a critical role in establishing the vision and building the management team for the FLAIA. In addition to his work with the FLAIA, he is a Managing Partner at Alexander Alternative Capital, LLC based in Miami. Prior to joining Alexander Alternative Capital, Michael worked for UBS AG where he was responsible for portfolio management and tactical asset allocation for private clients of UBS Global Wealth Management & Business Banking. Michael holds a Bachelor of Science degree from the University of Miami where he studied Business with a focus in Finance.

Bill Whale, CFA, CAIA, CIPM

Title

Global Alternatives Manager

@

Company

PFM Asset Management

Role

Panelist

Bill Whale serves as the lead for global alternatives research within the multi-asset class management team. In his role, he is responsible for manager selection and oversight that includes sourcing new manager ideas as well as continued monitoring of existing allocations. He also, in conjunction with the director of research and chief multi-asset class strategist, develops PFM's model alternatives portfolio and the framework for building out alternatives allocations for appropriate clients.

Mark Bell

Title

Head of Family Office Services and Private Capital

@

Company

Balentine

Role

Panelist

Mark Bell, Ph.D., is a Partner and Head of Family Office Services and Private Capital at Balentine. He brings two decades of investing and leadership experience to this role. Prior to joining Balentine, Mark was managing principal and director at Diversified Trust. He also served as chief investment officer at BlueArc Capital. Mark began his career with McKinsey & Co. and subsequently was director of strategy at D. E. Shaw & Co., a multi-strategy hedge fund manager, where he developed and executed the organization's private equity investment strategy and launched the firm's reinsurance business. He later served as the executive vice chairman of Brand Bank, where he led the recapitalization of the bank during the Financial Crisis.

In addition to being a frequent contributor to publications such as Real Assets Adviser, Financial Times, Wall Street Journal, and Atlanta Business Chronicle, Mark has given international lectures at Luxembourg School of Finance, the University of Zurich, Sciences Po, the Vatican, and the Kuwait Fund. Mark is a senior fellow and adjunct faculty member of the Center for Alternative Investments at Emory University's Goizueta Business School.

Mark Fitzpatrick

Title

Managing Partner

@

Company

Glide Capital

Role

Panelist

Mark Fitzpatrick has over 20 years experience working with family offices and wealth management firms to build portfolios within alternative strategies. Mark is a co-founder of Glide Capital, which was created in 2015 to assist family offices and wealth managers to more efficiently build portfolios within private credit and other alternative strategies.

Mark is a key member of the Investment Committee, oversees the operations and legal departments and is responsible for developing strategic relationships for the firm. Mark is a CFA charterholder.

Brett Hickey

Title

Chief Executive Officer

@

Company

Star Mountain Capital

Role

Panelist

Brett Hickey has over 20 years of private investing and investment banking experience with over 15 years spent directly in the U.S. lower middle-market. He has completed over 125 private equity, private credit and secondary fund investments.

Mr. Hickey is the Founder & CEO of Star Mountain Capital, LLC, a multi-billion dollar specialized private investment firm, making loans, private equity investments and secondary fund purchases across its Collaborative Ecosystem® in the lower middle-market. Driven by culture and stakeholder alignment, Star Mountain has been recognized as one of the Best Places to Work by Crain's and Pensions & Investments in both 2020 and 2019.

Previously worked as an Investment Banker at Citigroup Global Markets in New York City (formerly known as Salomon Smith Barney) where he completed over $24 billion in transactions for financial institutions.

Graduated with Distinction from McGill University in Montreal, Canada with a Bachelor of Commerce degree in Finance and Accounting. He is an alumnus of Harvard Business School's Owner, President / Manager executive training and management program.

Board positions include Harvard Alumni Entrepreneurs, Help for Children and the YMCA of Greenwich. He is also the Founder & Chairman of the Star Mountain Charitable Foundation, a 501(c)(3) focused on job creation (including for veterans, women and athletes), economic development and health & wellness. Mr. Hickey is a member of YPO and is a former Canadian national gold medalist and North American medalist in speed skating.
About
FLAIA
FLAIA is an open access platform of alternative investments for institutions, wealth advisors, family offices, RIAs, and accredited investors. General Partners gain access to a vertically integrated digital & traditional fintech marketplace. Investors gain access to special opportunities, educational webcasts and digital events. All of our digital events, educational content and alternative investment opportunities are available in one place under a single sign on.
PFM Asset Management
PFM Asset Management LLC provides investment advisory services. The Company offers portfolio and bond proceeds management, financial planning, quantitative strategies, and investment advisory services. PFM Asset Management serves clients throughout the United States.
Glide Capital
Glide partners with wealth advisors, family offices and institutional investors to build a customized portfolio, based on the specific objectives of their firm. Glide eliminates the significant financial and time commitment normally required to build a diversified portfolio by providing our clients with manager souring, due diligence, technology, research and a unique structure that allows firms to efficiently manage portfolios through their custodian. Glide has an experienced investment team which has reviewed over 600 private credit managers. Our goal is to provide the wealth managers with a best in class private credit offering which allows them to build better portfolios in an efficient manner. Glide Capital is SEC registered and has over $500 million in assets under management. Glide works with both US and international wealth management firms.
Star Mountain Capital
Star Mountain is a specialized asset management firm focused exclusively on the U.S. lower middle-market by investing debt and equity directly into established operating companies, making strategic investments into fund managers and purchasing secondary fund positions. Star Mountain Capital, founded in 2010 by Brett Hickey, is a specialized asset management firm focused exclusively on the large and fragmented U.S. lower middle-market. Backed by some of the world's most sophisticated institutional and high-net-worth investors, Star Mountain has developed a unique and proprietary platform to provide investors with highly diversified access to the attractive risk-reward opportunities available from established businesses that are not large enough to access the more efficient U.S. capital markets.
Balentine
Balentine is an employee-owned wealth management firm headquartered in Atlanta, Georgia, with a second office in Raleigh, North Carolina, providing financial planning and investment management services for business owners and their families. For more than 30 years, the Balentine legacy has been one of innovation, service to clients, and giving back to the community.