Investing in Gold: Uncovering the Untapped Opportunities with iMetal Resources
Hosted by iMetal Resources Inc.
May 3, 2023
11:00 AM - 12:00 PM ET
Webcast
We are excited to announce that Saf Dhillon, President and CEO of iMetal Resources, will be hosting an educational webcast to explain why now is a great time to invest in iMetal Resources. During the webcast, Mr. Dhillon will cover key topics such as the current state of the junior exploration gold mining industry, the reasons why iMetal Resources is an attractive investment opportunity, and the company's future growth plans. With his experienced and knowledgeable guidance, attendees will gain valuable insights into how to make informed investing decisions. Don't miss this chance to learn more about the potential of iMetal Resources and the gold mining industry. Join us on to hear from Saf Dhillon and gain valuable investing knowledge.
Learn about the potential of investing in iMetal

Get insights from Saf Dhillon, President and CEO of iMetal

Discussion of iMetal's current projects and growth plans

Insightful guidance on how to make informed investing decisions

Q&A session with Saf Dhillon, President and CEO of iMetal
Event Recording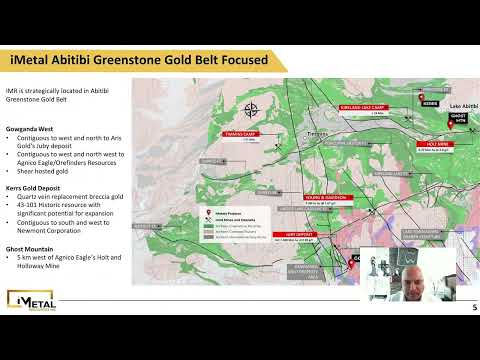 Investing in Gold: Uncovering the Untapped Opportunities with iMetal Resources
Attachments
iMetal Resources Corporate Presentation

IMR - Corporate Presentation May 2023.pdf
Speakers
Saf Dhillon

Title

President & CEO

@

Company

iMetal Resources Inc.

Role

Speaker

Mr. Saf Dhillon has been involved in the development of companies primarily listed on the TSX Venture Exchange for about 20 years and now on the CSE since February 2018. He has held a variety of positions including investor relations, business development, senior management as well as board directorships. Saf was part of the original team that orchestrated the growth of the Idaho based company, U.S. Geothermal Inc. During his 12-year tenure the company grew from being an approximate USD$2 million startup to becoming a successful and profitable Renewable Energy Independent Power Producer, operating 3 new power plants in the Pacific Northwest. The company also successfully transitioned onto both the TSX as well as the NYSE: MKT.

Saf is currently the President & CEO of iMetal Resources Inc. (TSXV: IMR); was a Founding Director of Torrent Gold Inc. (CSE: TGLD); is a Board Member of Lake Winn Resources Corp. (TSXV: LWR), as well as providing his skills and knowledge to several other private and public companies.Throughout his career, Mr. Dhillon has displayed exemplary leadership, communication, and problem-solving skills. He is highly adept at creating and executing strategies that produce successful results. He has an outstanding reputation and offers an extensive network of contacts within the investment banking industry. Mr. Dhillon has been recognized for his excellent work ethic and commitment to excellence. He is known for his ambition, integrity, and ability to think outside the box. He is a proven leader and team-player who can effectively manage multiple projects at the same time. Mr. Dhillon is an enthusiastic and dynamic individual who is passionate about his work.

Tim Henneberry

Title

Chief Geologist

@

Company

iMetal Resources Inc.

Role

Speaker

Mr. Henneberry is a professional geoscientist registered in British Columbia with over 42 years of experience in domestic and international exploration and production for base and precious metals and industrial minerals. Mr. Henneberry has been involved in the management side of public companies for the past 16 years, including: founding, senior management and/or directorships. As senior management he has achieved market caps of Cdn $25M, 45M and 140M during his career. He currently sits on the Board of multiple CSE and TSX.V companies, while also sitting on the Advisory Boards of others.

Directorships

Hilo Mining Ltd. (TSX-V)

iMetal Resources Inc. (TSX-V)

J4 Ventures Corp. (TSX-V)

Treviso Capital Corp. (TSX-V)

Golden Independence Mining Corp. (CSE)

Silver Sands Resources Corp. (CSE)

Tana Resources Corp. (CSE)
About
iMetal Resources Inc.
iMetal Resources is a junior exploration gold mining company. Our mission is to be the leader in gold exploration and production through the use of innovative technologies and sustainable practices. Our experienced team of geologists, engineers, and mining professionals are dedicated to finding and developing potential gold mining opportunities in North America. We are focused on discovering and developing new gold reserves in an environmentally conscious manner. Our commitment to safety and our commitment to being good stewards of the land is at the core of our operations. We are committed to creating long-term value for our shareholders while contributing to the well-being of the communities in which we operate.