Investing in a Fishbowl: Unlock Tactical Insights Now for Registered Investment Advisors
Hosted by STF MANAGEMENT
May 11, 2023
4:15 PM - 5:00 PM ET
Webcast
Are you a Registered Investment Advisor looking to diversify your portfolio? Then you won't want to miss this upcoming webcast on portfolio diversification! This webcast will provide you with a comprehensive overview of the best practices for diversifying a portfolio. Not only will there be a presentation, but also an interactive Q&A session to ensure that you get the most out of your experience. It is important to get involved in the discussion, as this is an invaluable opportunity to learn from others in the field. By taking part in this webcast, you will be able to stay on top of the latest trends and strategies in diversification, allowing you to maximize returns and minimize risk. Invest in yourself and your future by joining this webcast - you won't regret it!
Learn the latest strategies to diversify portfolios and reduce risk

Understand the nuances of determining optimal asset allocation

Develop a greater understanding of the various asset classes available

Network with other Registered Investment Advisors and industry experts

Receive up-to-date insights on the markets and how to apply them
Event Recording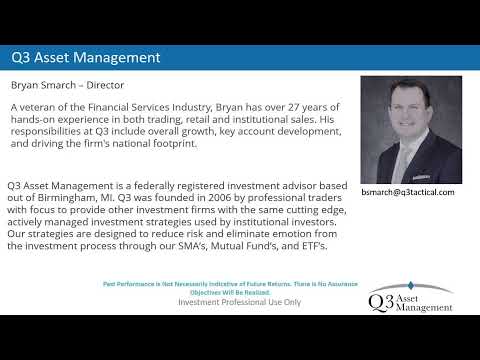 Investing in a Fishbowl: Unlock Tactical Insights Now for Registered Investment Advisors
Attachments
TUG White Paper

TUG Whitepaper.pdf
Speakers
Thomas Campbell

Title

Co-CEO & Portfolio Manager

@

Company

STF MANAGEMENT

Role

Speaker

Thomas is the mastermind behind algorithmic systems to formulate his Self-adjusting Trend Following (STF) fund and the Tactical Unconstrained Growth (TUG) fund and ETF. He specializes in tactical approaches to asset allocation.

BBA, McMurry University

CFP designation

Certifications, or Licenses, or honors here

Thomas is a financial executive with more than 28 years of experience. Before launching STF Management, he began his career with Fidelity Investments, with a specialization in retail marketing efforts. For 21 years Thomas worked with Transamerica Financial Advisors, Inc., in the Transamerica Financial Group Division — becoming an independent representative and advisor, a branch manager, and completing CFP designation.

He caught the active management bug prior to 2001, and ever since, focuses on tactical approaches to asset allocation. By 2008, these efforts culminated in the creation of the rule set for Self-adjusting Trend Following (STF) which remains a separately managed account offering and 1940 Act Fund from Flexible Plan Investments. In 2014, his second algorithmic system Tactical Unconstrained Growth (TUG) was created, and it too has been used as a separately managed account and 1940 Act Fund, this time through Q3 Asset Management. Additionally, TUG is an ETF model on Transamerica's TransOne platform through NASDAQ DorseyWright.

In his downtime, Thomas likes to play golf, do yard work, or build something in the garage. An avid reader, he's become a stock market history buff, and loves reading about the worlds' markets, economies, and intersection with politics. Spending time with his wife of 30 years and their two adult children (sons?) is a joy. Their favorite vacations include those not planned, leaving room for discovery and spontaneity.

Words of Wisdom? "Rather than seek happiness, we should seek joy. Joy is something much deeper and richer, that focuses on others and not just the hedonism of self-indulgence."

For speaking engagements, please contact us.

Jonathan Molchan

Title

Co-CEO & Portfolio Manager

@

Company

STF MANAGEMENT

Role

Speaker

Jonathan is a financial executive with 20 years in the industry covering quantitative derivatives' strategies, trading, research, and risk management. For 10 years he has specialized in derivatives and options-based ETFs.

BS, Finance, Sacred Heart University

Jonathan began his career at SAC Capital Advisors where he focused on long/short equity, as well as listed and OTC quantitative derivatives' strategies. At Millennium Management, he expanded his focus on long/short equity, global macro, and derivatives' trading, research, and risk management. A veteran in the space, Jonathan has also held roles at Cowen and Mirae Asset.

In 2013 Jonathan moved into the ETF industry, as he saw an opportunity to utilize his derivatives' experience to expand options-based ETFs to the investment community. Throughout his time focused on ETFs, he has served in numerous roles, including portfolio manager, product developer and manager, and a marketer of options-based strategies. Additionally, Jonathan is featured in industry publications and outlets, such as Bloomberg and Nasdaq, to discuss options and asset allocation.

When not working, Jonathan can often be found on a golf course, or spending time with his wife. In his downtime, Jonathan enjoys reading about retirement and investment strategies. He firmly believes all Americans should have tools to build retirement savings and access to a quality education — his motivating reasons to enter and stay in the financial field.

Words of Wisdom? "Make a change for people. We are judged based upon how we turn negatives into positives."

For speaking engagements, please contact us.

Thomas Munster

Title

Managing Director

@

Company

Profor Advisors

Role

Speaker

Tom Munster entered the financial services field as a retail financial advisor with PaineWebber Inc. in 1993 after spending 10 years at sea as a navigator on oil tankers and other vessels, globally. After a 3.5 year start and approximately $60 million in capital raised in the retail segment, Tom entered the hedge fund space, joining Clinton Group, a mortgage hedge fund. Between November 1997 and March 2004, Tom assisted Clinton Group in raising approximately $6.5 billion, while diversifying horizontally into convertible bonds, fixed income arbitrage, distressed, multi-strategy, and quantitative equity and launching the Firm's London office.

As an independent alternative marketer, Tom raised approximately $500 million for various hedge fund strategies between 2004 and 2009. In the aftermath of the Financial Crisis, Tom returned to in-house sales and marketing at Metacapital, a relaunched mortgage hedge fund, raising $1.6 billion in approximately 3.5 years. Tom subsequently transitioned back to an independent model to spearhead the asset raise for a startup "quantamental" fund, successfully launching the strategy with approximately $70 million in assets. Between November 2014 and August 2018, Tom was charged with leading the launch of a quantitative equity strategy with Clinton Group in a UCITS format, successfully raising $1.6 billion within 14 months across hedge fund, UCITS, and managed account formats.

Tom maintains a diverse partnership base which includes UHNW individuals, Family Offices, Endowments, Corporations, Insurance Companies, and Sovereigns and has collaborated with Nationwide to provide product placement and distribution service support for the Nationwide Risk-Managed Income ETF (NUSI).

Tom and his wife, Liz have been married for 33 years and have two grown children, both entrepreneurs. Tom enjoys boating, playing trumpet and trombone, and competitive and home barbecuing.

Bryan Smarch

Title

Director

@

Company

Q3 Asset Management

Role

Speaker

A veteran of the Financial Services Industry, Bryan has over 27 years of hands-on experience in both trading, retail and institutional sales. His responsibilities at Q3 include overall growth, key account development, and driving the firm's national footprint.
About
Profor Advisors
Profor Advisors offers professional marketing and sales consulting services to asset managers and places alternative investments with institutional investors worldwide. The combined years of experience and extensive networks of our group allow us to exceptionally tailor to each unique client situation throughout the capital raising process and beyond.
STF MANAGEMENT
STF Management LP is an SEC registered investment advisor headquartered in Frisco, TX. Our team is comprised of a variety of industry professionals who have specific expertise in financial services including hedge funds, investment banks, insurance companies and asset management firms. The STF team has a dedicated focus bringing investment solutions to clients, leveraging their experience in product development, management and distribution.
Q3 Asset Management
Q3 Asset Management is a federally registered investment advisor based out of Birmingham, MI. Q3 was founded in 2006 by professional traders with focus to provide other investment firms with the same cutting edge, actively managed investment strategies used by institutional investors. Our strategies are designed to reduce risk and eliminate emotion from the investment process through our SMA's, Mutual Fund's, and ETF's.