Introducing the New FLAIA Marketplace
Hosted by FLAIA
May 12, 2022
12:00 PM - 1:00 PM ET
Webcast
Join us as we debut the new and improved FLAIA marketplace. We will review the new features, capabilities and types of products that will be available for review. The marketplace is our new tool that will make it easier for investors to learn about alternative investments in one seamless place, based on your specific interests. Check out our new marketplace - https://flaia.org/marketplace/
Debut of the New Marketplace

How to Find the Deals that Matter Most to You

An Overview of the Investment Types on the Platform
Event Recording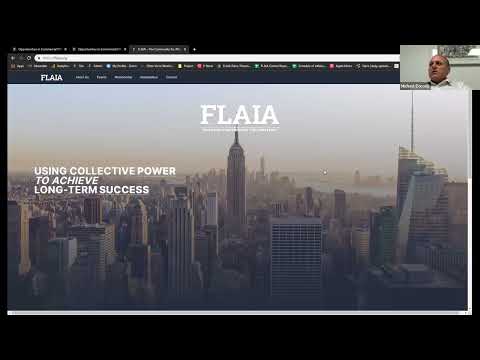 Introducing the New FLAIA Marketplace
Speakers
Michael Corcelli

Title

Founder & Chairman

@

Company

FLAIA

Role

Speaker

Mr. Corcelli is the Founder & Chairman of the FLAIA and has played a critical role in establishing the vision and building the management team for the FLAIA. In addition to his work with the FLAIA, he is a Managing Partner at Alexander Alternative Capital, LLC based in Miami. Prior to joining Alexander Alternative Capital, Michael worked for UBS AG where he was responsible for portfolio management and tactical asset allocation for private clients of UBS Global Wealth Management & Business Banking. Michael holds a Bachelor of Science degree from the University of Miami where he studied Business with a focus in Finance.

Jeremy Johnson

Title

Digital Growth Master

@

Company

FLAIA

Role

Speaker

Jeremy has 10+ years of experience as a lead web developer with a demonstrated history of working in the media production industry. As the head of FinTech/Web Development of FLAIA, Jeremy is responsible for hosting digital events, managing the website and onboarding new technological solutions for FLAIA members and community. He has previous experience in state level government legislative policies where he partook on various consulting projects for state elected officials on new/emerging technology.

Since the early 2017, Jeremy has been a strong believer of Blockchain Technology and has been investing in the space ever since. He is a DeFi user and has been supporting the Blockchain community by being a host & moderator for various Blockchain & Cryptocurrency panels and Q&A sessions and spreading its impact to the alternative investment community around the globe.
About
FLAIA
FLAIA is an open access platform of alternative investments for institutions, wealth advisors, family offices, RIAs, and accredited investors. General Partners gain access to a vertically integrated digital & traditional fintech marketplace. Investors gain access to special opportunities, educational webcasts and digital events. All of our digital events, educational content and alternative investment opportunities are available in one place under a single sign on.