Fine Art & Fine Wine Investing, True Hedges Against Inflation
Hosted by Cult Wines Investment
May 5, 2022
11:00 AM - 12:00 PM ET
Panel
The past few years have been plagued with an immense amount of uncertainty. War, consumer inflation and disappointing stock market returns, have had an enormous impact on how investors are approaching their portfolios.
With so much uncertainty, the demand for been battle-tested hard assets has grown exponentially.
For centuries the rich and powerful have stored their wealth in tangible assets like art and wine. Both have been great status symbols as well as stores of value. Fine wine and blue-chip art have been two of the best performing asset classes that have both outpaced the S&P 500 the past 2 decades. The issue until now has been about accessibility.
What was once only available to the well connected is now available to investors of all sizes. Learn how you can use art and wine, as great hedges against return destroying inflation.
Fine Wine and Blue-chip Art have a Proven Track Record

Uncorrelated to the Stock Market

Tangible/Scarce Asset During an Uncertain Time

Growing Global Middle Class Increasing Demand for Luxury Goods
Event Recording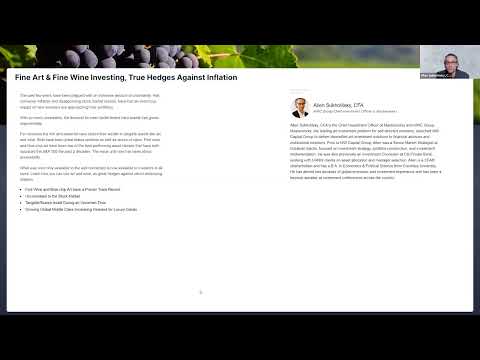 Fine Art & Fine Wine Investing, True Hedges Against Inflation
Speakers
Michael Corcelli

Title

Founder & Chairman

@

Company

FLAIA

Role

Moderator

Mr. Corcelli is the Founder & Chairman of the FLAIA and has played a critical role in establishing the vision and building the management team for the FLAIA. In addition to his work with the FLAIA, he is a Managing Partner at Alexander Alternative Capital, LLC based in Miami. Prior to joining Alexander Alternative Capital, Michael worked for UBS AG where he was responsible for portfolio management and tactical asset allocation for private clients of UBS Global Wealth Management & Business Banking. Michael holds a Bachelor of Science degree from the University of Miami where he studied Business with a focus in Finance.

Atul Tiwari

Title

CEO of Cult Wines Americas

@

Company

Cult Wines Investment

Role

Panelist

As Chief Executive Officer, Atul Tiwari leads the team and is responsible for the overall strategy and development of Cult Wines Americas. Hailed by Investment Executive as 'having a knack for knowing what's next', Atul is thrilled to have successfully married his extensive investment experience with a passion for wine to introduce this unique asset class to the Americas market. Atul leads with investment rigor, excellent client relationships and unparalleled knowledge of the asset class.

Atul's background speaks for itself, before building Cult Wines Americas, he was employee number one at Vanguard Canada. As CEO for the company, together with his team, he helped pioneer ETF investing in Canada and grew the company from $3 to $30 billion in assets over 7.5 years. Prior to Vanguard, he held progressively senior positions at BMO Financial including senior vice president of BMO Asset Management, heading up the BMO US mutual fund business in Chicago before going on to lead the charge for BMO to enter the ETF business as the founding President of BMO Exchange Traded Funds. In 2018 he received the Indo Canada Chamber of Commerce award for Corporate Executive of the Year and has twice been named to Wealth Professional's annual list of People to Watch in the industry. Atul is a member of the Independent Review Committee for Mackenzie Funds, a Director of the D.D. Foundation, which provides free medical care and education to the disadvantaged in India, a member of the Advisory Council for the CFA Society of Toronto and an Honorary Trustee of the Royal Ontario Museum.

In addition to his personal interest in wine, Atul has also managed a 4000-bottle cellar of fine Burgundy for the Toronto Chapter of the Confrerie des Chevaliers du Tastevin over a five-year period. After earning his law degree from Osgoode Hall Law School (Canada), he began his career in law, practicing in London (UK) and Toronto before transitioning to finance.

Allen Sukholitsky, CFA

Title

MWC Group Chief Investment Officer

@

Company

Masterworks

Role

Panelist

Allen Sukholitsky, CFA is the Chief Investment Officer of Masterworks and MWC Group. Masterworks, the leading art investment platform for self-directed investors, launched MW Capital Group to deliver diversified art-investment solutions to financial advisors and institutional investors. Prior to MW Capital Group, Allen was a Senior Market Strategist at Goldman Sachs, focused on investment strategy, portfolio construction, and investment implementation. He was also previously an Investment Counselor at Citi Private Bank, working with UHNW clients on asset allocation and manager selection. Allen is a CFA® charterholder and has a B.A. in Economics & Political Science from Columbia University. He has almost two decades of global economic and investment experience and has been a keynote speaker at investment conferences across the country.
About
FLAIA
FLAIA is an open access platform of alternative investments for institutions, wealth advisors, family offices, RIAs, and accredited investors. General Partners gain access to a vertically integrated digital & traditional fintech marketplace. Investors gain access to special opportunities, educational webcasts and digital events. All of our digital events, educational content and alternative investment opportunities are available in one place under a single sign on.
Masterworks
Masterworks is building a platform to securitize fine art by filing paintings with the SEC. For the first time ever, investors can purchase and trade shares in multi-million dollar works of art by artists like Picasso, Monet, and Warhol.
Cult Wines Investment
Cult Wines is the global leader in fine wine collection and investment management with $250 million in assets under management and is on a mission to make investing in wine as enjoyable and rewarding as the wine itself. A deep-rooted passion for fine vintages, close relationships with the most prestigious and respected growers and market-leading investment expertise are at the core of the company. Paired with the latest technology, Cult offers exceptional knowledge and insights together with rigorous risk management.
By working closely with producers of fine wine to support and champion their pedigree, Cult Wine Investment is able to deliver unprecedented access to rare, highly sought-after investment-grade wines. The company connects wine lovers with respected experts via exclusive events and bespoke experiences, while actively managing clients' dynamic portfolios to reflect their individual financial goals. All of which creates unique, life- enriching investment opportunities.