How 1 Interview Changed the NBA Players Association's Medical Cannabis Policy, Enabling Better Recovery for Athletes
Hosted by Avicanna
August 4, 2022
1:00 PM - 2:00 PM ET
Panel
The NBA was known to have a very strict testing policy. Learn how one interview with former player, now marijuana entrepreneur, Al Harrington changed the NBA's stance on CBD and medical cannabis usage.
Avicanna, an international commercial-stage biopharmaceutical company with a focus on commercial products and pharmaceutical pipeline recently scored a strategic partnership with Al Harrington and the NBA players association.
In this video Al Harrington and Aras expand on the partnership and championing the use of CBD in professional sports.
Johnson and Johnson incubator and in partnership with leading academic and clinical institutions in Canada

Athletes struggle with life altering injures and pain

Many travel across the world for experimental pharmaceuticals to get relief

Several pharma products have debilitating side effects, and unknown long term implications

One interview lead the late David Stern to saying "Players should have access to Medical Cannabis"

Strategic partnership with NBA veteran Al Harrington and the NBA players association

Learn how Avicanna is disrupting pain management, neurology, dermatology and sleep market opportunities
Event Recording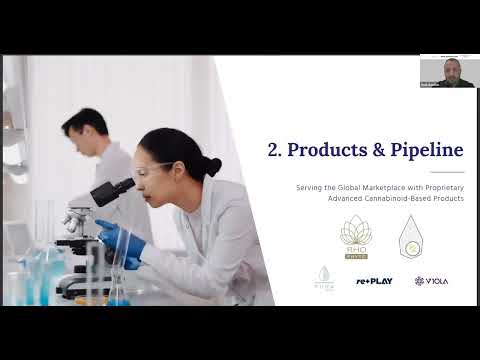 Disrupting The Global Pharmaceutical Industry With Cannabinoid-based Medicine
Speakers
Aras Azadian

Title

Chief Executive Officer

@

Company

Avicanna

Role

Panelist

Utilizing his extensive senior management experience in both financial and bio-technology sectors, Aras co-founded Avicanna with the vision of establishing a bio-pharmaceutical company with a strict focus on medical and pharmaceutical applications of cannabinoids. His expertise and experience in the biotechnology industry have been integral to Avicanna's thought leadership pertaining to R&D and clinical development. Since 2016 Aras has successfully led a team of executives, scientists, and medical professionals across several countries with the vision of vertical integration and a strong company focus on quality controls, scientific vigour and competitive advantages. Aras holds a Bachelor of Economics degree from York University and an International master's in management degree from EADA Business School in Barcelona, Spain.

Al Harrington

Title

CEO of Viola Inc.

@

Company

Avicanna

Role

Panelist

Al Harrington is the CEO and Co-Founder of Viola, the Black-owned, multi-national cannabis company creating premium products. Al's entrepreneurial endeavors began during his NBA career when he strategically invested in start-ups across the cannabis industry. In 2011 he launched the Viola brand in Colorado after overseeing the carefully curated cultivation, extraction, and production processes. With the mission to provide opportunities and ownership for the Black community at the heart of the brand, Al uses his platform to advocate for a more equitable cannabis industry. He is an authority in the cannabis industry and a key advisor to those shaping legislation on both local and national levels. As of early 2022, Harrington has since expanded Viola into four states and into Canada in partnership with Avicanna, becoming the largest Black-owned multinational cannabis brand. Harrington also co-founded Village, and Re+Play which recently launched its official partnership with the NBA players association to include its CBD recovery products.
About
Avicanna
Avicanna is a commercial-stage international biopharmaceutical company focused on the advancement and commercialization of evidence-based cannabinoid-based products for the global medical and pharmaceutical market segments. Avicanna has an established scientific platform including R&D and clinical development that has led to the commercialization of more than thirty products across various market segments:
Medical Cannabis & Wellness Products: Marketed under the RHO Phyto™ brand these medical and wellness products are a line of pharmaceutical-grade cannabinoid products containing varying ratios of cannabidiol ("CBD") and tetrahydrocannabinol ("THC"). The product portfolio contains a full formulary of products including oral, sublingual, topical, and transdermal deliveries that have controlled dosing, enhanced absorption and stability studies supported by pre-clinical data. The formulary is marketed with consumer, patient and medical-community education and training.
Pharmaceutical Pipeline: Leveraging Avicanna's scientific platform, vertical integration, and real-world evidence, Avicanna has created a pipeline of patent-pending drug candidates that are indication-specific and in various stages of clinical development and commercialization. These cannabinoid-based drug candidates look to address unmet medical needs in the areas of dermatology, chronic pain, and various neurological disorders. Avicanna's first pharmaceutical preparation (Trunerox™) is in the drug registration stage in South America.