Digital Solutions Amid a Physical Storm to Accelerate & Enhance Buy Side Due Diligence
Hosted by FLAIA
December 17, 2020
2:00 PM - 2:30 PM ET
Keynote
FLAIA launched an online digital platform in 2019 and has made great strides in rolling it out to supplement the Buy-Side Discovery and Due Diligence process. FLAIA designed the platform to conform to the rigors of a busy life not knowing that people would be further hindered by COVID -19. The platform uses investor preferences and deal highlights to make a market in alternative investments with the mission and vision of being the world's leading marketplace for alternative investments and alternative investment education. Michael Corcelli, the Founder & Chairman of FLAIA will demonstrate the platform in real time showing how the deal marketing, due diligence and fund raising process is fully digital and compliant with securities rules, regulations and compliance.
Creating a process to look at investment opportunities in 2021

How to use the digital environment to uncover exceptional investment opportunities and express your macroeconomic view

Staying on top of your current investments by looking at similar investments online

Using the current environment to shape your relationships with your asset managers

How to supercharge the due diligence process from the comfort and safety of your home or office
Event Recording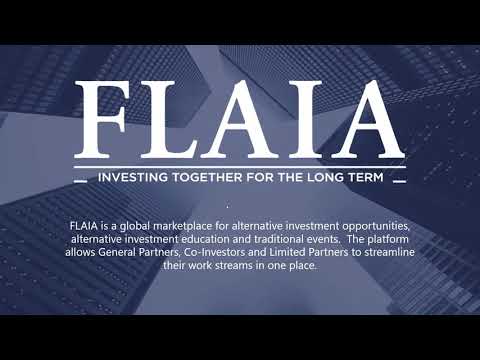 Digital Solutions Amid a Physical Storm to Accelerate & Enhance Buy Side Due Diligence
Speaker
Michael Corcelli

Title

Founder & Chairman

@

Company

FLAIA

Role

Speaker

Mr. Corcelli is the Founder & Chairman of the FLAIA and has played a critical role in establishing the vision and building the management team for the FLAIA. In addition to his work with the FLAIA, he is a Managing Partner at Alexander Alternative Capital, LLC based in Miami. Prior to joining Alexander Alternative Capital, Michael worked for UBS AG where he was responsible for portfolio management and tactical asset allocation for private clients of UBS Global Wealth Management & Business Banking. Michael holds a Bachelor of Science degree from the University of Miami where he studied Business with a focus in Finance.
About
FLAIA
FLAIA is an open access platform of alternative investments for institutions, wealth advisors, family offices, RIAs, and accredited investors. General Partners gain access to a vertically integrated digital & traditional fintech marketplace. Investors gain access to special opportunities, educational webcasts and digital events. All of our digital events, educational content and alternative investment opportunities are available in one place under a single sign on.