Democratization of Alternative Investments via CrowdFunding
Hosted by FLAIA
March 18, 2021
12:00 PM - 1:00 PM ET
Panel
In this conversation, we'll discuss what democratization really means and how it has played out and what the future looks like. The panelists will share detailed figures about the growth of their companies and the amount of crowd funding in their unique verticals. We will discuss their strategies, performance and the teams behind the successes. It will be a hard hitting investment conversation that no investor should miss.
Democratization today, the good, the bad and the ugly

Evolution of CrowdFunding

Strategy, Performance and Team

The Covid-19 lessons

Growth potential
Event Recording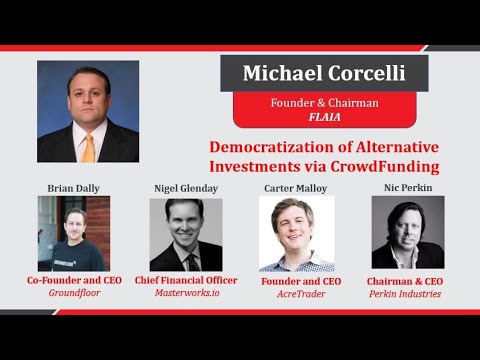 Democratization of Alternative Investments via CrowdFunding
Speakers
Michael Corcelli

Title

Founder & Chairman

@

Company

FLAIA

Role

Moderator

Mr. Corcelli is the Founder & Chairman of the FLAIA and has played a critical role in establishing the vision and building the management team for the FLAIA. In addition to his work with the FLAIA, he is a Managing Partner at Alexander Alternative Capital, LLC based in Miami. Prior to joining Alexander Alternative Capital, Michael worked for UBS AG where he was responsible for portfolio management and tactical asset allocation for private clients of UBS Global Wealth Management & Business Banking. Michael holds a Bachelor of Science degree from the University of Miami where he studied Business with a focus in Finance.

Brian Dally

Title

Co-Founder and CEO

@

Company

Groundfloor

Role

Panelist

Brian is a co-founder and director of GROUNDFLOOR and serves as our CEO. He is responsible for setting long term direction and goals for the company, executive management, financing, and strategic partnerships. Brian's 20-year career building disruptive technology startups spans stints in Silicon Valley, Boston, London and the North Carolina Triangle region prior to moving GROUNDFLOOR to Atlanta in 2014. Previously, he led the launch of Republic Wireless to take on the big four cellphone carriers to international acclaim. As a result, millions more Americans can now afford a smartphone. Brian has a JD from Harvard Law School, an MBA from Harvard Business School, and a BA with Highest Distinction from the University of Virginia.

Carter Malloy

Title

Founder and CEO

@

Company

AcreTrader

Role

Panelist

Carter grew up in an Arkansas farming family and has had a lifelong passion for investing, agriculture, and conservation. Prior to founding AcreTrader, he was part of an equity investment firm and a Managing Director with Stephens, Inc.

Nic Perkin

Title

Chairman & CEO

@

Company

Perkin Industries

Role

Panelist

Formerly, he was Co-Founder and President of The Receivables Exchange, the first and largest electronic marketplace for the trading of commercial receivables.

Prior to founding The Receivables Exchange, Mr. Perkin was part of the leadership team that built and ultimately sold Massive Incorporated to Microsoft Corporation in May 2006. Earlier in his career Mr. Perkin worked in investment banking and mergers and acquisitions for Veronis Suhler & Associates, at the time the premier media M&A advisory practice. He has worked in various positions in financial technology, specifically in technology for order management and risk management for fixed income, as well as for numerous media companies, specifically around the acquisition and assimilation of operating assets.

Mr. Perkin holds a Master of Science in Finance from the London Business School and a Bachelor of Arts from Tulane University. He served as the appointed (and ratified by the state legislature) Vice Chairman of the Louisiana Innovation Council, which is a think tank to analyze and address the future of innovation in the State of Louisiana, and served as a member of the council. He is also a former board member of The Pennington Biomedical Research Center. Currently, Mr. Perkin is a member of the New York Weill Cornell Council (NYWCC) which serves to support patient care, medical research, and education at New York Weill Cornell Medical Center, as well as serves on the Louisiana Technology Council, The New Orleans Business Alliance Leadership Council and the New Orleans Advisory Board of the Posse Foundation.

Nigel Glenday

Title

Chief Financial Officer

@

Company

Masterworks

Role

Panelist

Mr. Glenday has over 14 years of experience in specialty finance, corporate strategy and investment banking. Prior to Masterworks, he served as Managing Director at Athena Art Finance, an art-secured finance company backed by the Carlyle Group. Previously, he worked for 10 years as an investment banker covering specialty finance, banks and financial technology companies at UBS Investment Bank, Morgan Stanley and StormHarbour Partners.
About
FLAIA
FLAIA is an open access platform of alternative investments for institutions, wealth advisors, family offices, RIAs, and accredited investors. General Partners gain access to a vertically integrated digital & traditional fintech marketplace. Investors gain access to special opportunities, educational webcasts and digital events. All of our digital events, educational content and alternative investment opportunities are available in one place under a single sign on.
Groundfloor
Founded in 2013, GroundFloor is a wealthtech platform that allows everyone to build wealth through real estate. GroundFloor was the first company qualified by the U.S. Securities & Exchange Commission to offer direct real estate debt investments via Regulation A for non-accredited and accredited investors alike. Today, it remains the only product offering everyone the ability to build fully customizable real estate debt portfolios for short-term, high-yield returns. The company is headquartered in Atlanta and has raised $26 million in equity capital from a variety of sources, including venture capital and online public equity offerings. As of its most recent round of financing, the company is 25 percent customer-owned.
Masterworks
Masterworks is building a platform to securitize fine art by filing paintings with the SEC. For the first time ever, investors can purchase and trade shares in multi-million dollar works of art by artists like Picasso, Monet, and Warhol.
AcreTrader
AcreTrader was created with a simple mission: provide investors direct access to the highly attractive asset class of farmland. Farmland is a high-return, low volatility asset class, with historical returns beating most major asset classes and other forms of real estate. Unfortunately, buying and maintaining farmland directly is extremely difficult. The few investment options that are available charge extremely high fees, provide almost no liquidity, and offer little or no choice over portfolio composition. In short, there has not been an easy, affordable way for most investors to participate. Until now. Through a proprietary online investment platform that uses some aspects of crowdfunding, AcreTrader offers transparency, security, and liquidity to people wanting to invest in farmland. Additionally, AcreTrader removes the headaches traditionally associated with land ownership by handling all aspects of administration and property management, from insurance and accounting to working with local farmers and improving soil sustainability. Now investors can access this highly attractive asset class and earn passive income, starting in just minutes online.
Perkin Industries
Perkin Industries ("PI") is a diversified portfolio of cash-producing operating assets. All of their companies share some common characteristics - They are run by successful entrepreneurs. They have the opportunity to grow. They produce cash. They have over 3 years of operating history. PI has been in existence since 2012.