Utilizing Gold & Silver for Optimal Portfolio Diversification
Hosted by Direct Bullion
June 9, 2021
11:00 AM - 12:00 PM ET
Webcast
With the economic impact of COVID-19 still looming and geo-political tensions rising, portfolio diversification is more important than ever. Although the stock market is doing well as of now, all good things must come to an end. With that, inflation is poised to pick up. Now is the time to diversify your portfolio. Bullion, the only currency to stand the test of time, typically acts inversely to stocks and bonds: the price bullion goes up during periods of rising inflation & uncertainty.
Join Direct Bullion's President, Sam O'Brien alongside Matthew Buenafe, Financial Planner at Personal Capital, as they discuss how bullion can play a pivotal role in your portfolio diversification, acting as a hedge against inflation and promoting personal capital gains.
To learn more about Direct Bullion, visit this link for their brochure! https://mibo.nmu.org.ua/en/Flipbooks/1/US/mobile/index.html
Current status of stock market

Projections

How people should be looking to protect themselves

Best methods for portfolio diversification

Trusted sources for bullion purchasing
Event Recording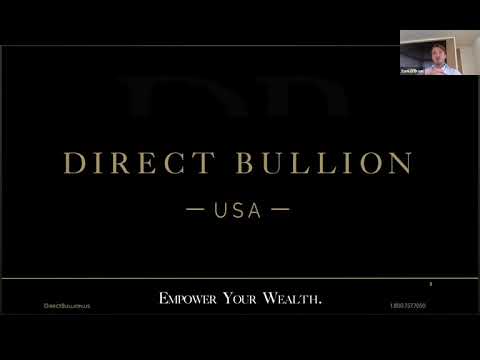 Utilizing Gold & Silver for Optimal Portfolio Diversification
Attachments
About Direct Bullion

Bullion Deck- FINAL.pdf
Speakers
Sam O'Brien

Title

President

@

Company

Direct Bullion

Role

Speaker

Sam founded the US branch of Direct Bullion in 2019 after ten-years in high-level client-focused positions. He is driven to provide the highest-quality service to all clientele. His passion for customer service is echoed across the Direct Bullion model and visible in the team's unparalleled attention to meeting client needs.

Corinne Frankel

Title

Director of Marketing

@

Company

Direct Bullion

Role

Speaker

As Director of Marketing, Corinne has built the brand around Direct Bullion US. Her passion for storytelling and connection is the driving force behind Direct Bullion's campaigns. Her goal is to expand engagement to niche clientele- growing the company to the largest precious-metals brokerage in the Nation. While beginning her early career in marketing, Corinne also graduated cum laude from Florida International University.
About
Direct Bullion
Direct Bullion is a leading US precious metals dealer, specializing in work with High Net Worth individuals (HNWi). Recognized as one of the world's best precious metals companies in the HNWi sector by The Spear's 500.
Although best-known for their work with HNW individuals, Direct Bullion offers all clients the same high levels of service, low margins & insured delivery on all orders – whether a customer is buying a single coin or filling a vault. Clients are able to buy online through our well-stocked e-commerce website or directly through one of their team of specialist brokers – & all under an industry leading "Price Match Promise."
Established in the US in 2019, Direct Bullion is the trusted precious metals investments specialist- operating from a base in Miami, Florida & serving clients across the US & internationally. Concentrating on providing a "gold standard" concierge investment service for clients who are used to the very best of everything, Direct Bullion has quickly gained a reputation as the go-to brokerage for confidential, tailored precious metals packages at surprisingly low-premiums.
Included in Direct Bullion's services is our Gold IRA program. This self-directed retirement account allows for investing in gold, silver & platinum in the physical form of bullion bars & coins. It is simple & fee-less to rollover a 401(k), 403(b), or Traditional IRA into a Gold IRA. The entire process is handled by a custodian, moving between accounts without any additional charges. This safe haven, ultimate asset for wealth protection, is consistent & will never be worth zero.
The goal of the Direct Bullion team is to empower your wealth. Whether we can offer more information, help start your journey in alternative investments, or continue your growth- we are here every step of the way. For more information visit our website directbullion.us, follow us on all social media platforms @DirectBullion.us, & feel free to give us a call anytime 1.800.757.7050.